Upgrade Your Ride With E-Trike, Safety and Stability Guaranteed
Ride Green, Ride Free 
One E-Trike, Double Fun
SOLETRI M-366X is a 2-seater electric trike based on M-66X, with full suspension, banana seat, and wooden footrest, all of which combine to offer a smooth and comfortable ride for your family.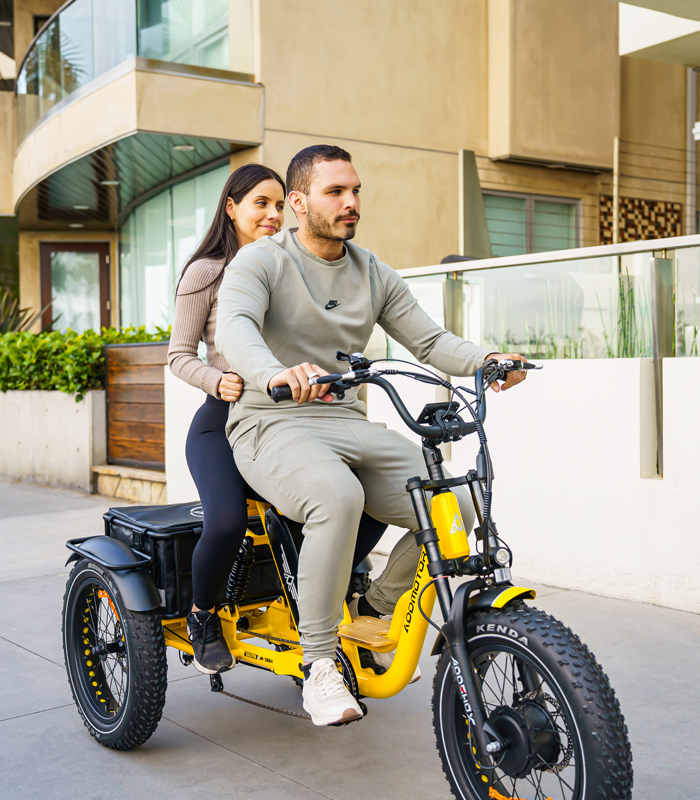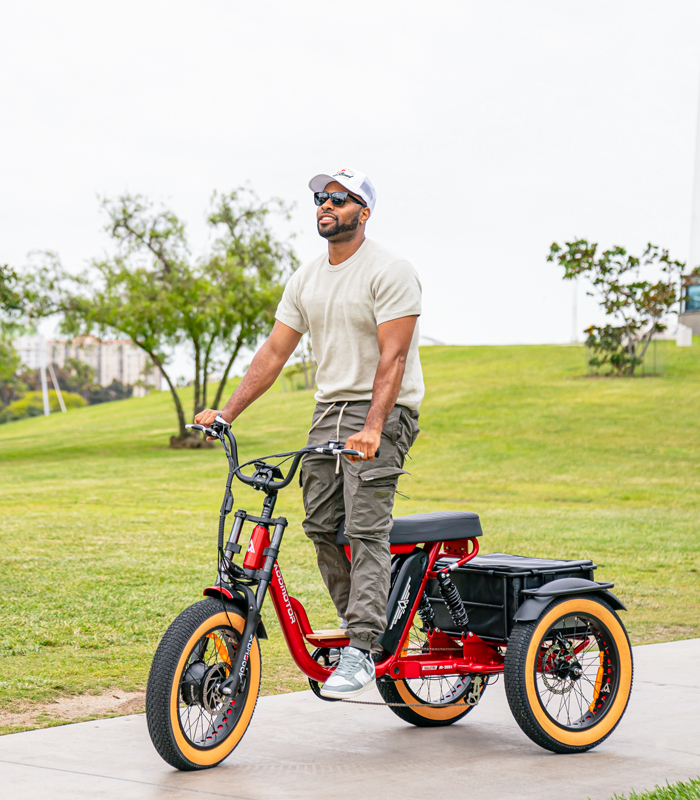 Keep You Stable In The Riding
M-366X features a full suspension system which is designed to absorb any bumps or shocks that the trike may encounter on the road.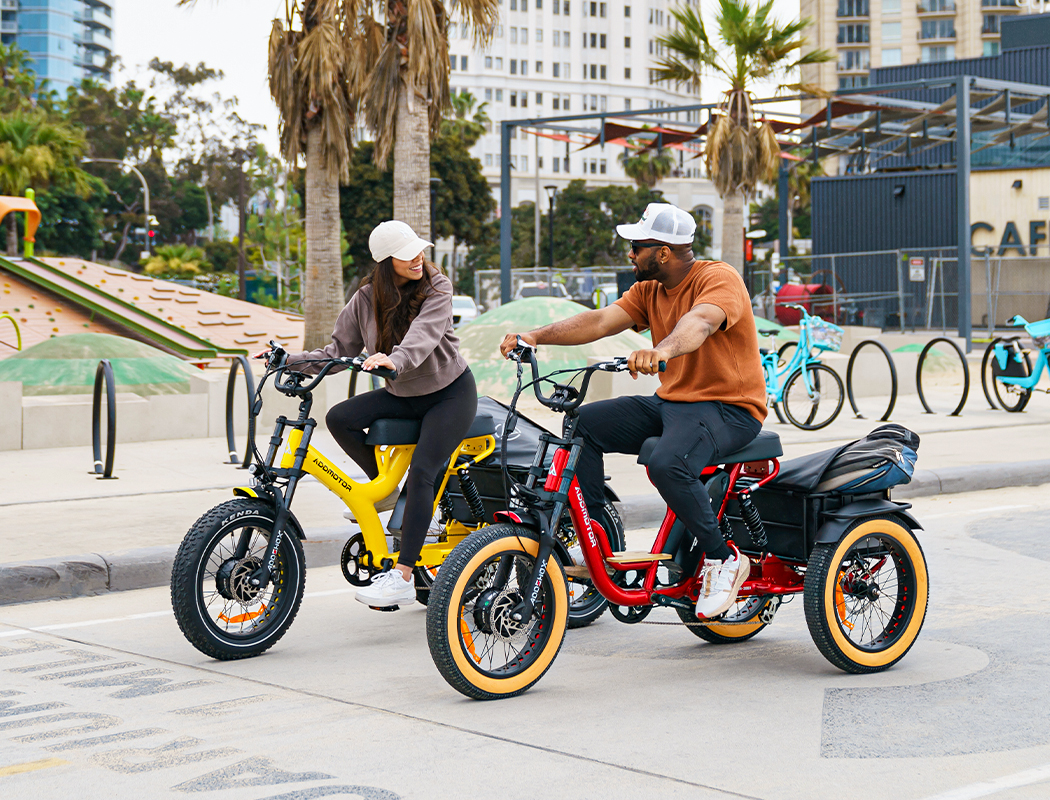 The Ultimate Choice Of Your Adventure
Soletri M-366X has a step-thru bike frame, making it easier to ride. Its three-wheel design also leaves room for a rear basket behind 2 riders. It can help you on many trips.

EB 2.0 Electric Trike w/ Parking Brakes
This electric trike is everything you've come to expect. The parking brakes make it safer. Plus Addmotor latest EB 2.0 electrical system, the M-366X is ready for your leisurely riding.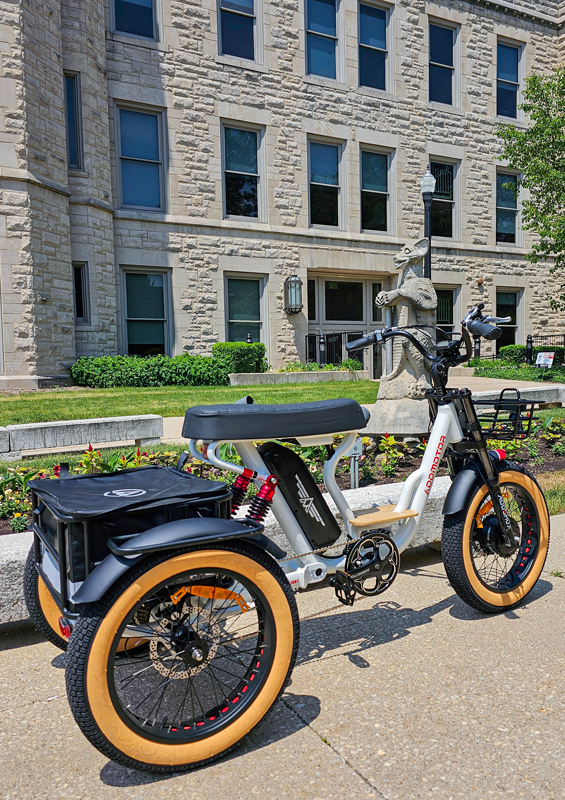 Soletri M-366X: Discover Extra Features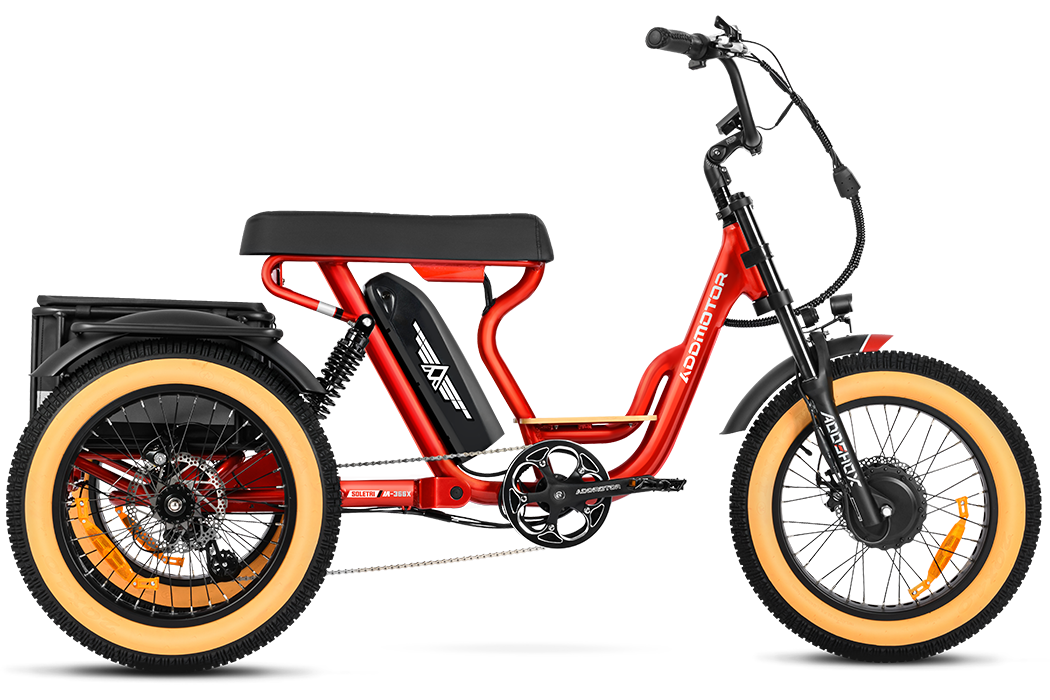 + 20Ah High Capacity Samsung Battery
+ Addmotor 5 Inch LCD Display
+ EB 2.0 LIGHT SYSTEM
+ 750W Front-Mounted Motor
+ 2 In 1 Storage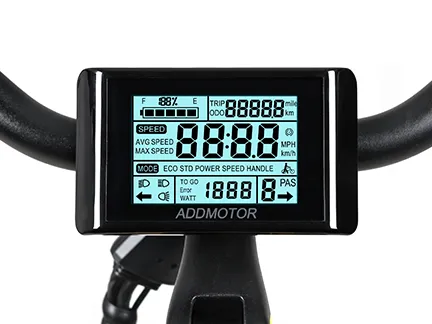 Addmotor 5 Inch LCD Display
With the 5-inch LCD display, you gain effortless access to vital information such as speed, mileage, battery life, and more, empowering you with complete control during your ride.
Next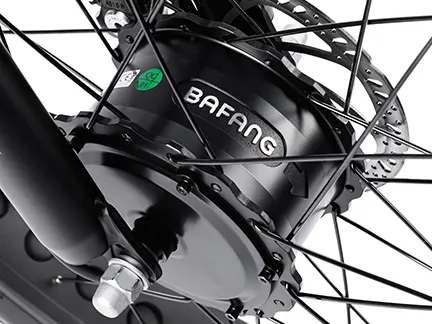 750W Front-Mounted Motor
Front-mounted 750W motor enhances weight distribution and stability, offering a comfortable pedaling experience.
Next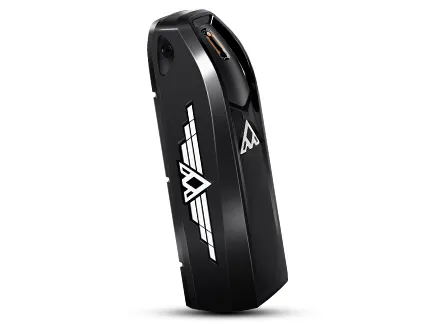 20Ah High Capacity Samsung Battery
With a high-capacity 20Ah battery, this etrike allows for extended travel without frequent recharging.
Next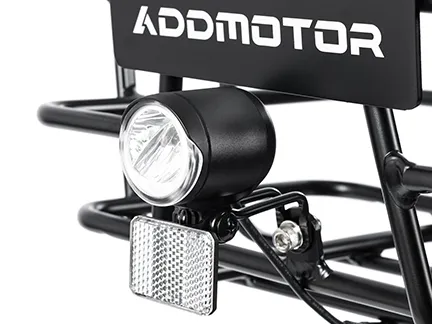 EB 2.0 LIGHT SYSTEM
The versatile taillight of the EB 2.0 lighting system offers multiple functionalities, including driving, danger, flashing, and left/right turning signals. This comprehensive lighting system ensures optimal visibility and safety for riders in any situation.
Next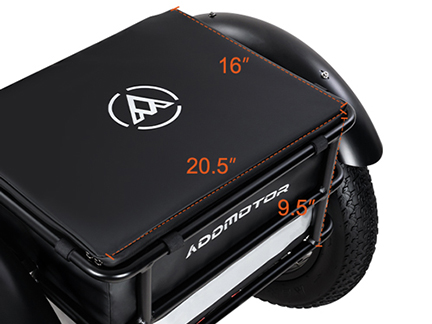 2 In 1 Storage
The M-366X electric trike comes equipped with a rear basket with a waterproof storage bag. This combination provides ample space to carry your belongings, whether it's groceries, personal items, or essentials for your adventures.
Next

450LBS
Payload Capacity

48V/20Ah
UL Samsung Battery

750W
Geared Hub Motor

5'2''- 6'4''
Height Range
85+Miles
Ride Range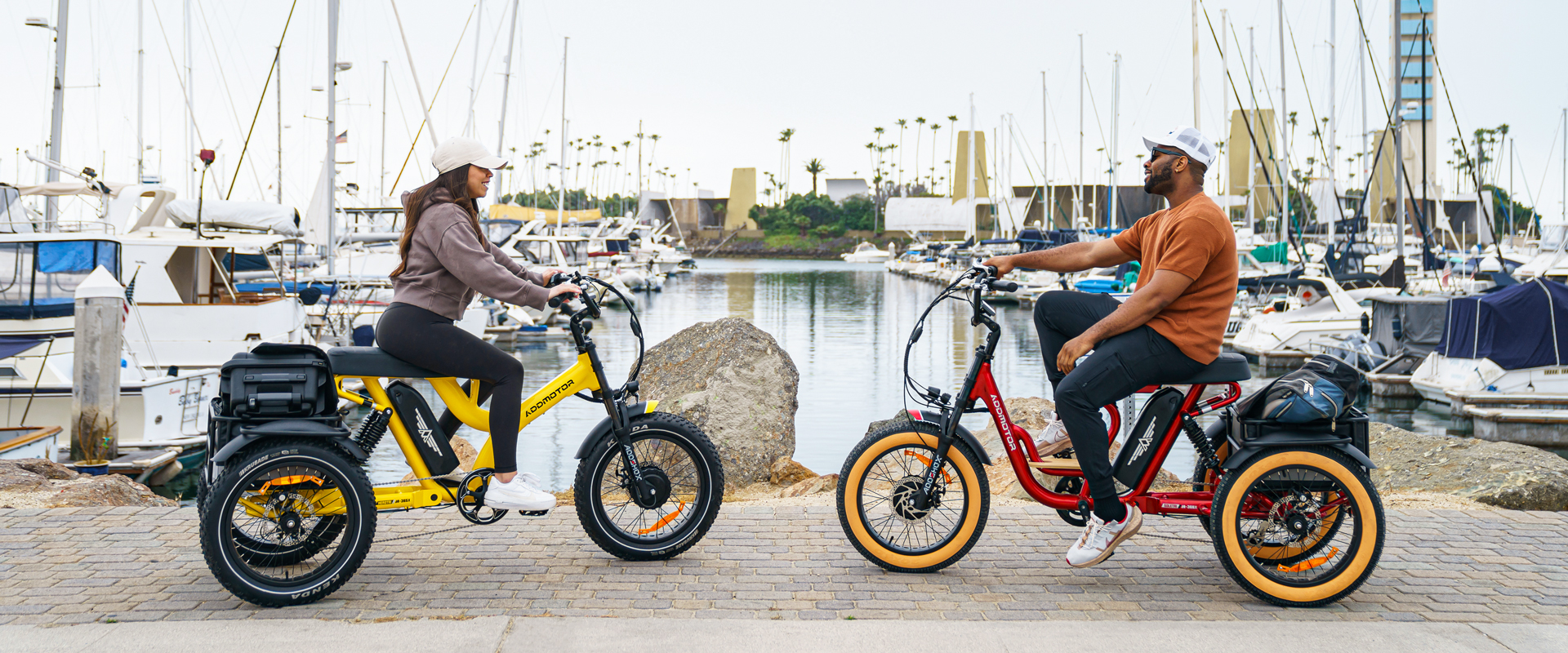 The M366X electric trike features lightweight yet robust aluminum front and rear fenders.
Whether you're riding on wet roads or uneven terrains, these fenders help keep water, mud away, ensuring a cleaner and more comfortable ride.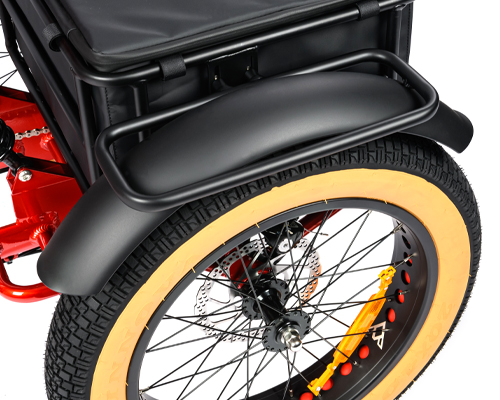 Operating the parking brake is effortless with a simple squeeze of the handbrake and press of the button.
The parking brake provides an additional layer of safety when parking the trike on slopes, preventing any sliding down the hill for a safe parking experience.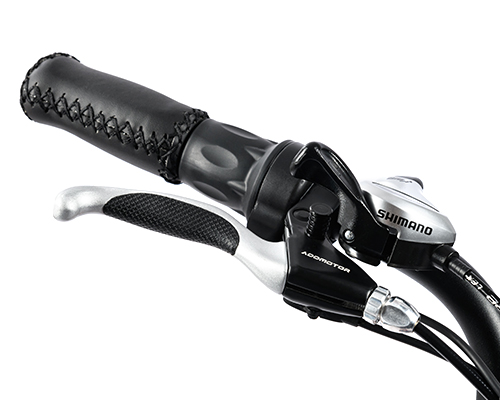 The step-thru frame ensures a comfortable seating position, allowing riders to sit upright and maintain a natural posture throughout their journey.
Boasting a sleek and stylish design, this trike adds to its overall aesthetic appeal, making it visually appealing and captivating.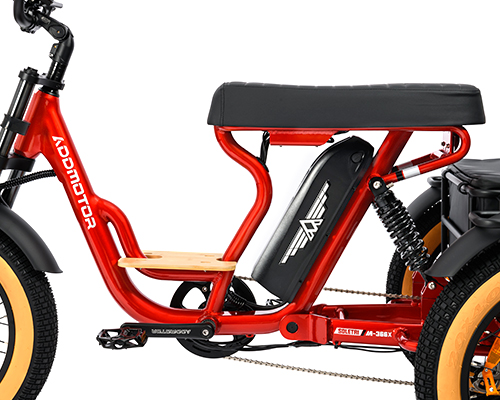 With its ergonomic design, the banana saddle provides riders with a comfortable and supportive seating position.
TIts unique shape, wider at the rear and narrower at the front, ensures optimal comfort throughout your ride.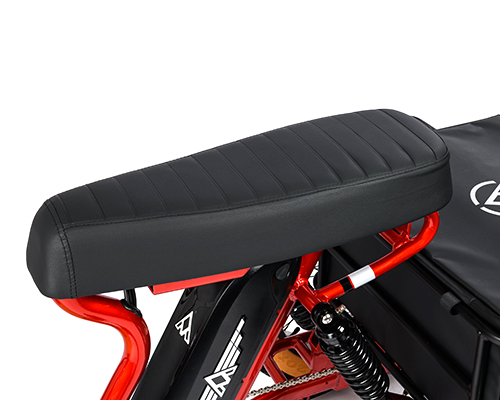 The M-366X etrike is equipped with robust and wide 20''x4.0'' fat tires, designed to deliver unmatched traction on all types of terrain.
Their larger footprint helps distribute weight evenly, reducing the risk of sinking or getting stuck in softer terrains.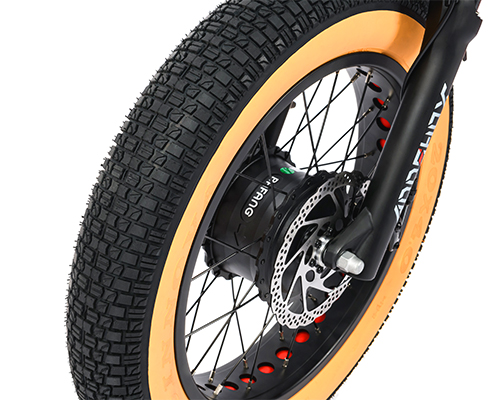 Crafted from high-quality, sustainable wood, this footrest board aligns with eco-friendly principles, allowing you to enjoy the journey while being mindful of the environment.
Its smooth and flat surface provides a supportive platform for resting your feet during the ride.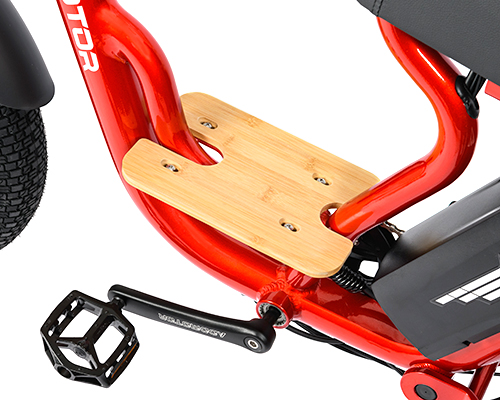 Full-Suspension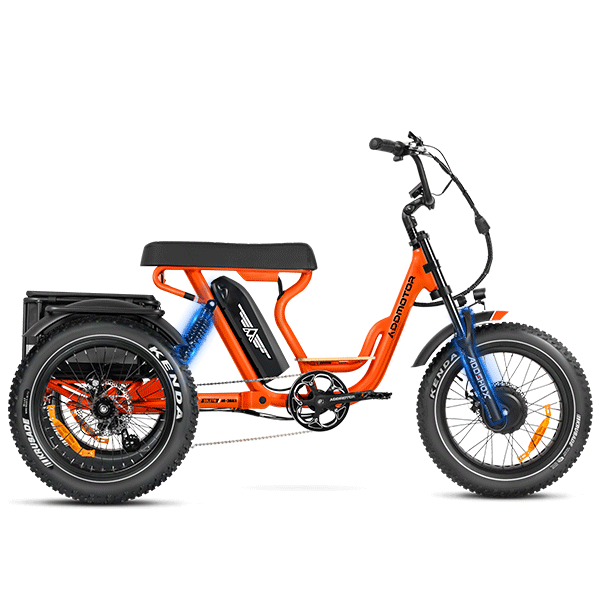 Front Suspension Fronk: 80mm Travel
The front fork of the M-366X etrike is designed to effectively absorb shocks and impacts from the front wheel.
Rear Dual Suspension
Experience a comfortable ride with the rear suspension of the M-366X etrike. Designed to absorb impacts and maintain traction and stability, it provides enhanced comfort when navigating obstacles.
Improved Traction
This system ensures a continuous connection between the trike's wheels and the road surface, enhancing stability and traction for a confident and controlled ride.
Technical specs
+Electronics
Motor
Bafang 48V*750W Front Brushless Gear Motor. Top speed at 20 mph.
Battery
Samsung Lithium-ion Cell 20AH (21700-5000mah), 8-10 Hours Fully Charged Time, Rated For 1000-1500 Cycles
Display
Addmotor EB 2.0 Multi-Function LCD Display (Increase to 7 PAS)
 
Controller
Addmotor EB 2.0 25A Controller, Upgraded to A Chip Type
Throttle
Variable Speed Control - 1/2 Twist Throttle With Power-Cut Switch
Headlight
Supplies a brightness of 40 lumens, a visible distance of 200m, and a 180° side view.
 
Taillight
UL certificate, With driving light, left and right turn signals, danger light, flashlight, brake light
 
Charger
48V*2.0Ah 5 Pins US Standard DC Charger, 7-shaped Head Design
Pedal Assist
Intelligent 7 Levels Pedal Assist, Speed Sensor (7 PAS)
Charger Port
5 Pins With Auto Magnetic Suction Customized Snap Lock
Range
Up to 85 Miles Per Charge with PAS 1 (Estimate Miles)


 
Wiring
Water-Resistant Connectors and Wiring
Harness
+Components
Frame
6061 Aluminum Alloy Step-Thru Frame with Wooden Footrest
Front Fork
Addshox Spring Suspension Fork, Triple Clamp, 32.5mm Steel Stanchions, 80 mm Travel, Preload Adjust, Boost 135 mm Hub Spacing, 9 mm Skewer with Bolts
Brake Rotors
Tektro Aries Mechanical Disc with 180 mm Rotors, Tektro Four-Finger Levers with Rubberized Edge and Motor Inhibitors
Gearing
7 Speed 1x7 Shimano Altus Derailleur, Shimano MF-TZ500-7 Cassette 14-28 Tooth
Derailleur
Shimano 7 Speeds / ALTUS M310
Cranks
Ounce, Alloy, 170 mm Length, 42 Tooth Chainring with Double-Sided Alloy Chain Guard
Pedals
Wellgo Alloy Platform with Pins
Headset
Neco, Threadless Internal Cups, Straight 1-1/8"
Stem
Promax, Alloy, Adjustable Angle (-10º to 100º), Alloy, 110 mm Length, Four 10 mm Spacers
Grips
Ergonomic, Stitched Faux Leather, Black
Saddle
Banana Seat (23" x 8.5"), Faux Leather, Black
Rims
Cast Alloy, Double Walled
Brake
Tektro Aries Mechanical Disc with 180mm Rotors, Four-Finger Levers with Rubberized Edge, Motor Inhibitors, and Bell on Left
Tires
Kenda GIGAS Puncture-resistant 20" X 4.0" Inches Durable Tires
 
Handlebar
Adjustable U Style Curved Handlebar, Adjust The Angle and Height
 
Front Wheel
Quick Release
 
Spokes
12-Gauge High-Strength Spokes
Fenders
Aluminum, Front Fender and Rear Fender Included
 
Horn
Included Electric Horn, 108 Maximum Decibel, 492 Foot away transmitted
Shifter
SHIMANO Right Thumb Shifter 7-Speed, SIS Index System
Measurement
Suits riders in the height range of 5'2"-6 '2"
Max load capacity is 450 lbs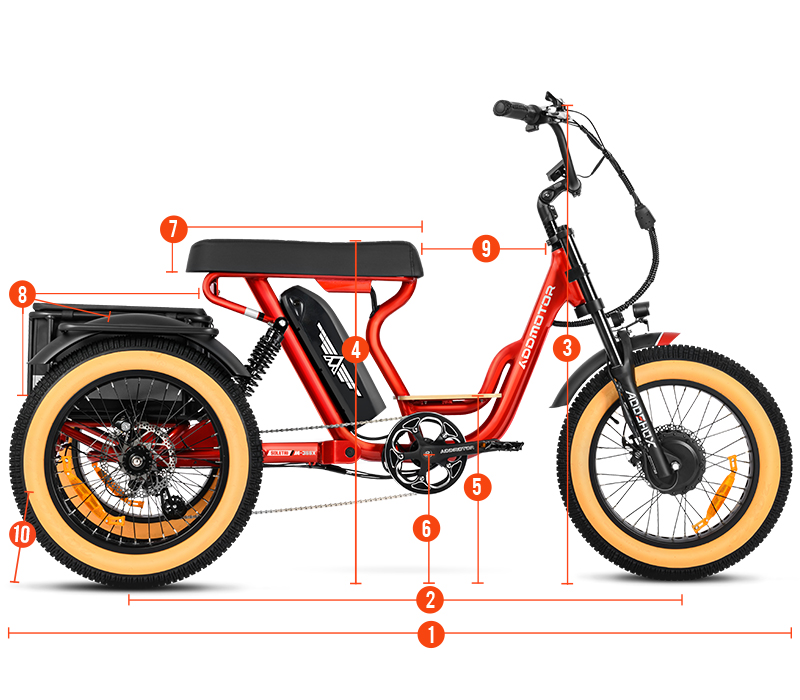 1Total Length 76.7''
2Wheelbase 54''
3Handlebar Height 47''
4Seat Height 32.5''
5Standover Height 17"
6Bottom Bracket Height 12.4"
7Saddle Size 23.5" X 8.5"
8Rear basket 21'' X 17'' X 9.8''
9Reach 11.8''
10Total Width 32.7''
11Bike weight 121 lbs
12Handlebar Width 30"