Addmotor 2000 Lumens LED Flashlight with 5 Modes High/Low/Strobe/Red light/SOS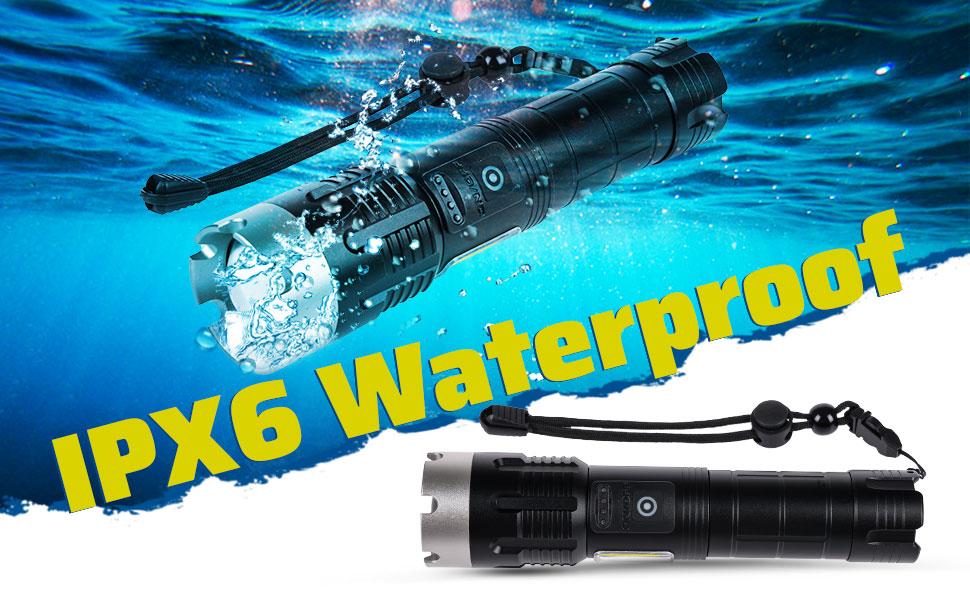 Addmotor Waterproof Flashlight is suitable for all kinds of scenarios for different people.
With LED direct light and side light function, as well as IPX6 waterproof function, you can use it in a variety of situations, in addition, it can also be used as a power source to charge your device in case of emergency. This flashlight has a variety of lighting modes, high/low/strobe/red/SOS, can irradiate a range of 0-200 meters, suitable for indoor and outdoor sports, such as camping, cycling, hiking, hunting, fishing, adventure, etc.
Features:
♦ Super Bright
2000 lumens LED bulb can easily illuminate any dark place, or space.

♦ Long-lasting Lighting Battery
With 50,000-hours long lifespan, the battery can last up to 3 hours in strong light mode and 5 hours in medium light mode. The battery is rechargeable.

♦ COB Side Light
with high/low/red light/SOS mode. Suitable for ultra close-range lighting, emergency, night riding, self-defense.

♦ Waterproof and Reliable
With IPX6 level of waterproof performance. Designed for use in almost any condition, from heavy rain to dry and dusty environments. Lightweight and easy to carry, the non-slip surface will hold your hand firmly in extreme conditions.

♦ Adjustable lighting distance
Equipped with super bright P70 wick, The headlamp has 3 modes, high/low/strobe. The headlamp is fully zoomable, from wide to narrow light, you can adjust the focus according to the distance, it can easily cover 0-200m irradiation range, suitable for long and short distance irradiation.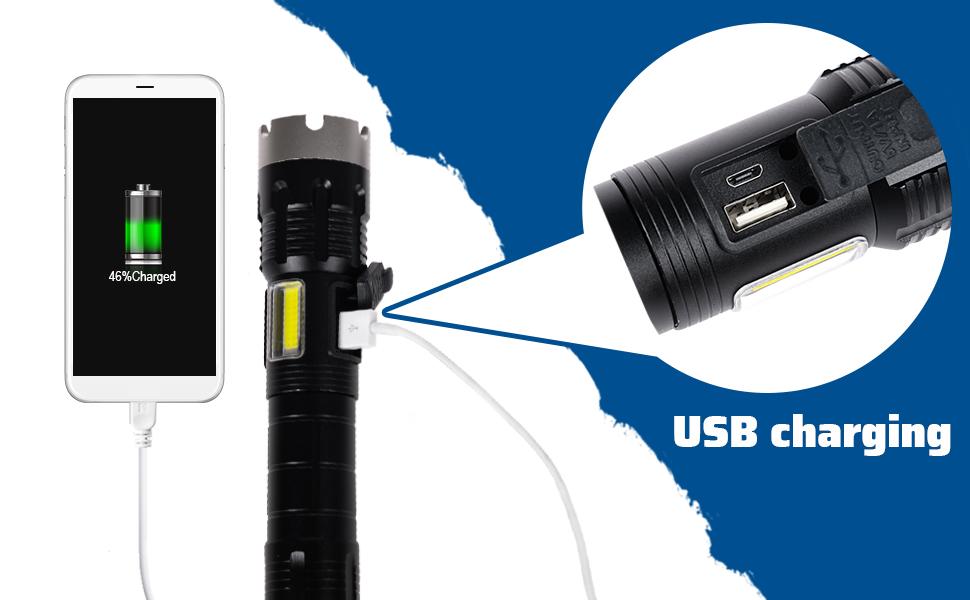 Specification
• Material: Aluminum alloy and high-quality plastic
• Headlight: strong light, weak light, strobe
• Side light: double click to open COB sidelight. Strong light, Weak light, Red light, and SOS mode.
• Battery: 5000mAh rechargeable lithium battery
• Voltage: 3.7 to 4.2 V
• Light beads: P70 light beads *1
• Range: 0-200 m
• Waterproof level: Ipx6 Splash-proof
• Power: 30W
• Brightness: 2000 lumens
• Flashlight Size: 18*4.5*4.5cm / 7.1*1.8*1.8 inches
• Case Size: 21*12*5.5cm / 8.3*4.7*2.2 inches