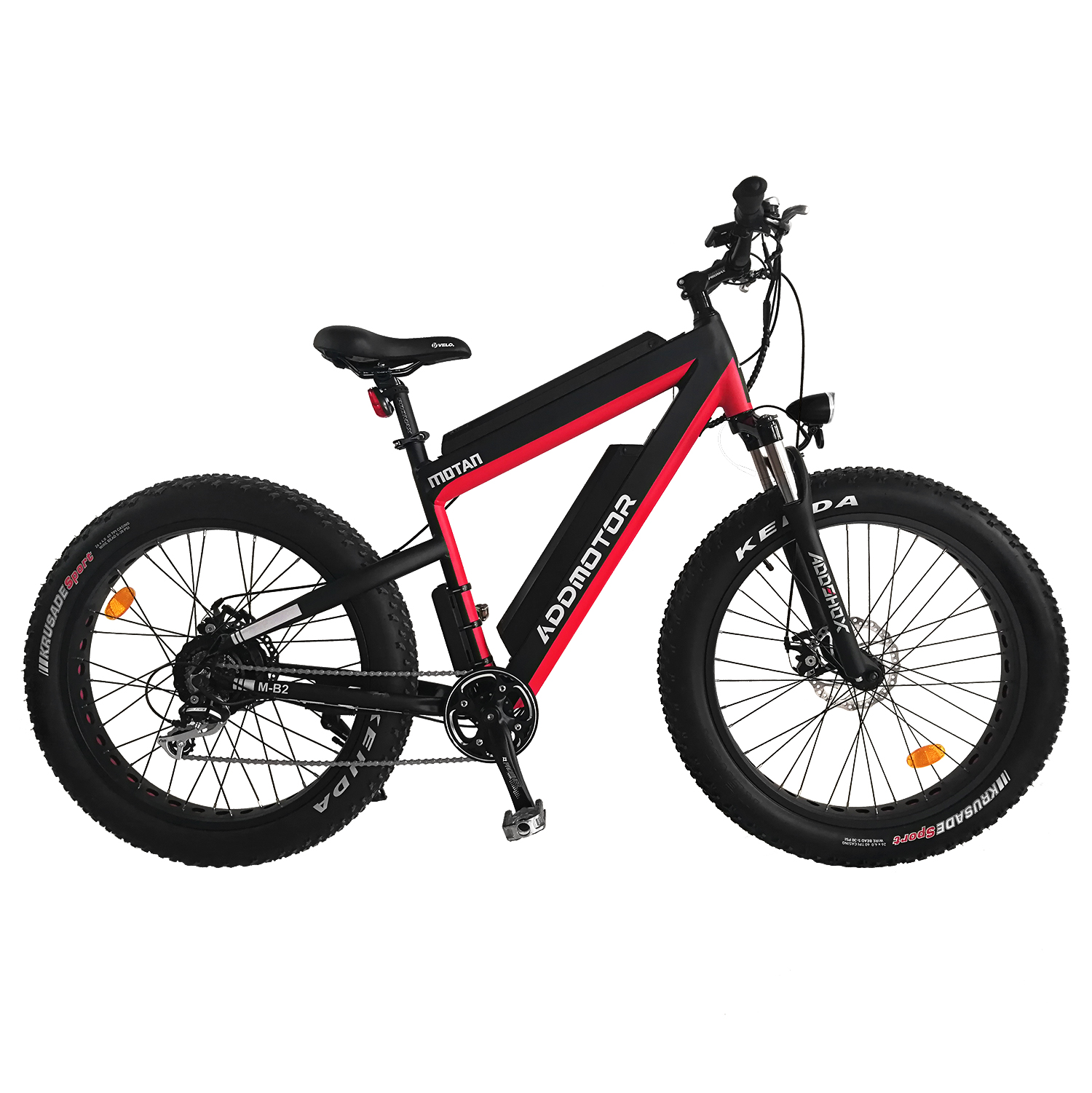 The MOTAN M-B2 is born for the long-range. It is Addmotor's first dual battery e-bike in 2019. The dual battery technology makes the M-B2 unbeatable when it comes to long-range and ascent. In addition, being able to go twice as far on long trips, yo no longer have to worry about your range day-to-day riding either.
While riding, priority use the downward oblique tube battery, which capacity is 17.5Ah. The system automatically switches to the 10.5Ah battery in 0.5s that set on the upward tube when it detects a charge difference of five percent. The batteries can be used separately. If necessary, bikers also have the option to use one of them. Both batteries can be charged on the bike at the same time or charged separately on an external charger. It comes with one charger that can be used to charge the two batteries, whether mounted or removed. Starting from a completely discharged state, the charging time for both batteries is 11 hours, or 7 hours for the 17.5Ah battery, 4 hours for the 10.5Ah battery.
With the dual battery technology, day tours over 80 miles are no problem at all. So you can focus entirely on riding, without constantly being preoccupied with range. For short trips or in day-to-day use, practical technology requires significantly less frequent charging cycles. Therefore, the dual battery technology is an amazing solution not only for touring bikers but also for daily commuters.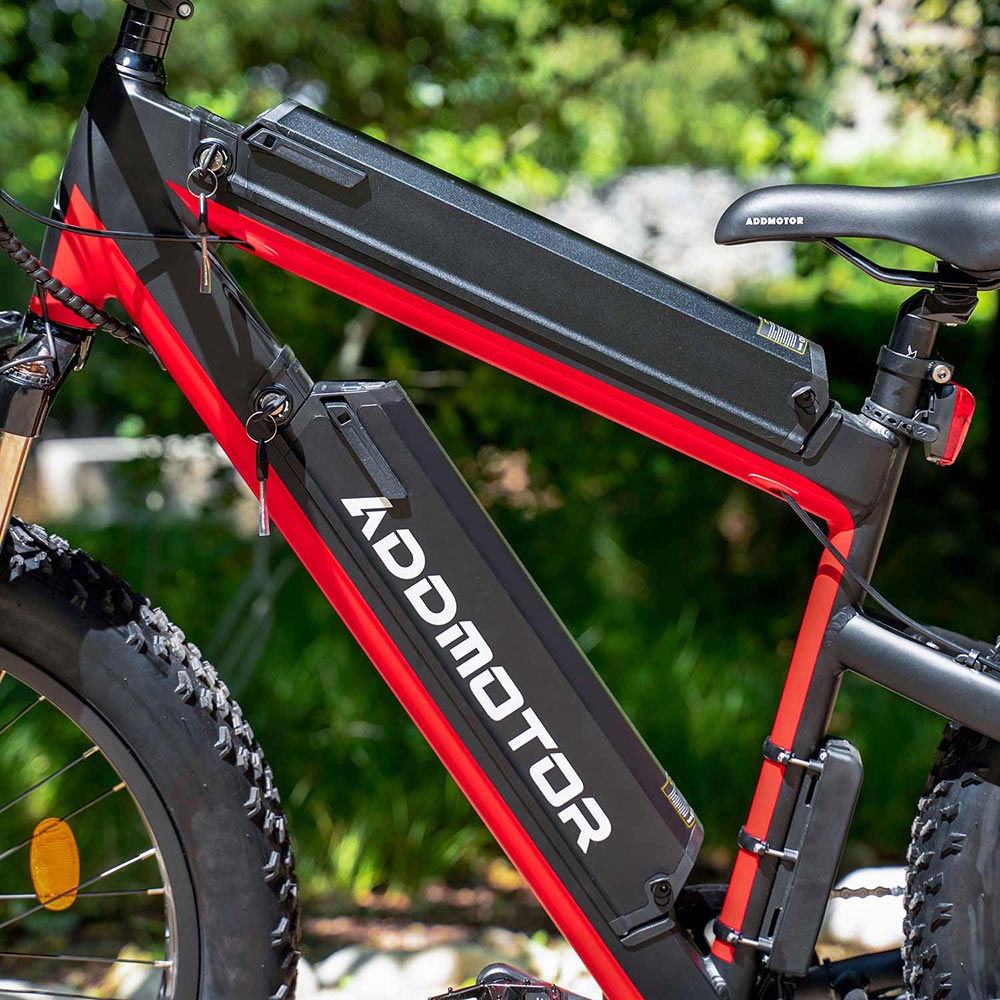 Dual Batteries
MOTAN M-B2 features TWO batteries on the front bike tube, 17.5Ah, and 10.5Ah. With the large-capacity battery, you can ride a longer range of 80-100 miles on a single charge. This makes the bike unbeatable when it comes to range ad ascent. Besides being able to go twice as far on long trips, you no longer have to worry about your range in your day-to-day riding either. It is more flexibility during the journey.
5 INCH LCD SCREEN DISPLAY
Cool, fashionable, professional and equipped with a USB outlet in the 5 inch LCD multi-function display shows the parameters clearly including battery status, speed, odometer, and biking mode, all these features can well meet any of your needs, easily to glance at the health of the bike on road.
EQUIPPED WITH POWER HEADLIGHT
Powered by the main battery pack, the bright headlight is activated any time , offering safety for riding at night or on the dark road.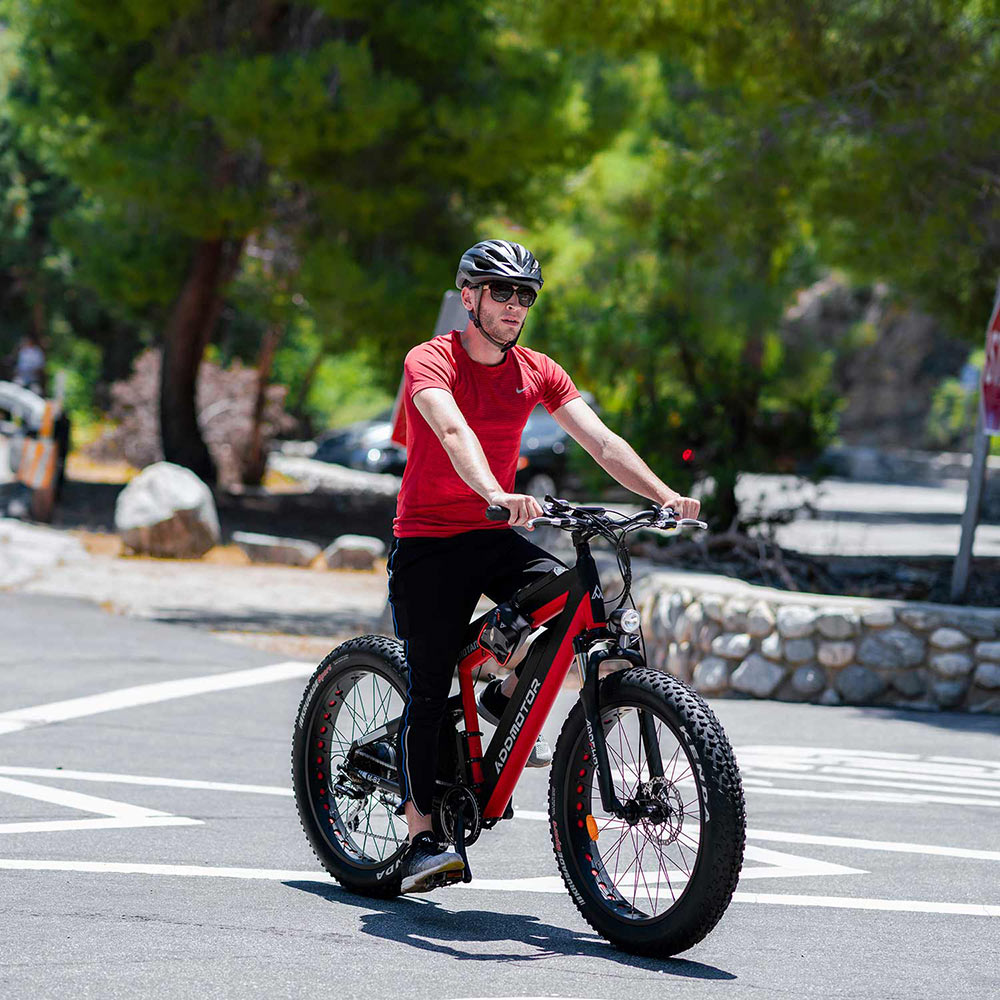 FAT TIRES FOR MULTI TERRAIN
MOTAN M-B2 equips with a 26''x 4.0'' fat tires that have an excellent orographic performance, no matter as a hunting bike or a daily city commuter bike it can behave very well.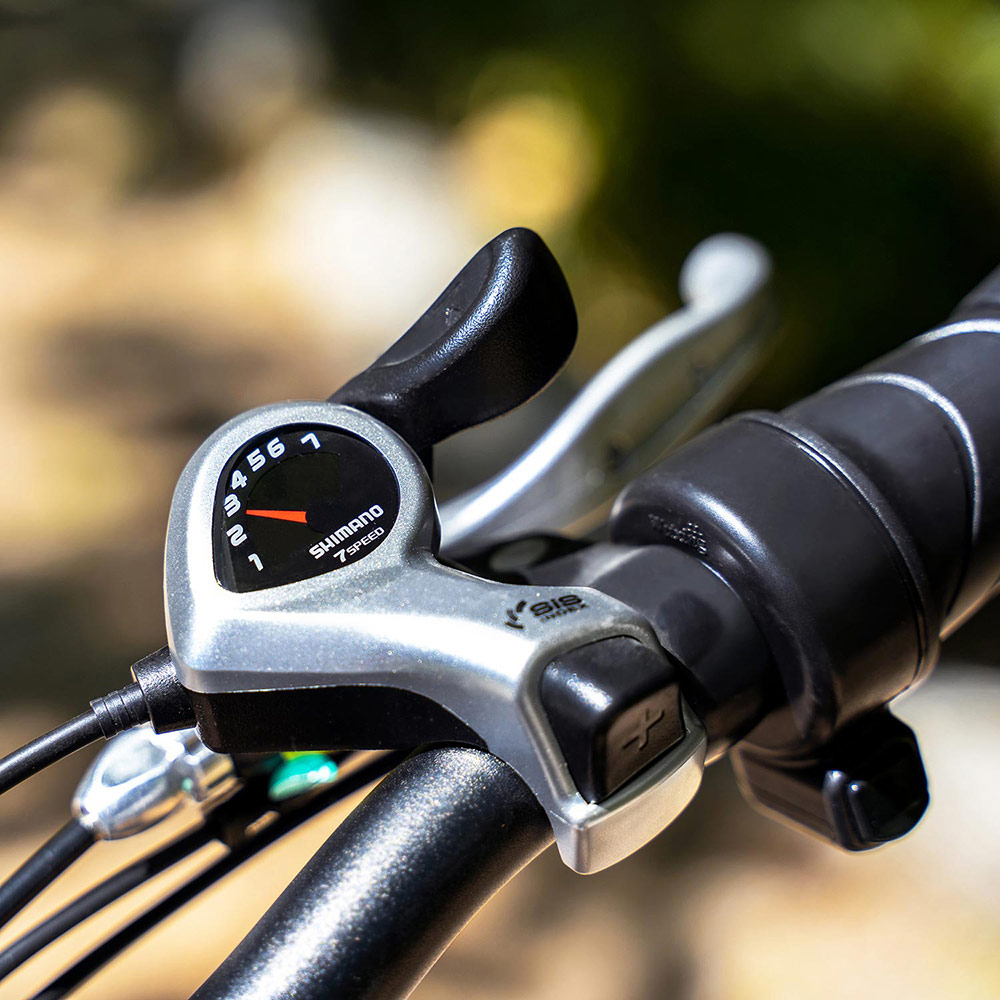 FRONT FORK SUSPENSION
The bike comes with a front fork with 100mm Of travel, can be easily adjusted and lockout. It can absorb the pump well and offers you a smooth-riding.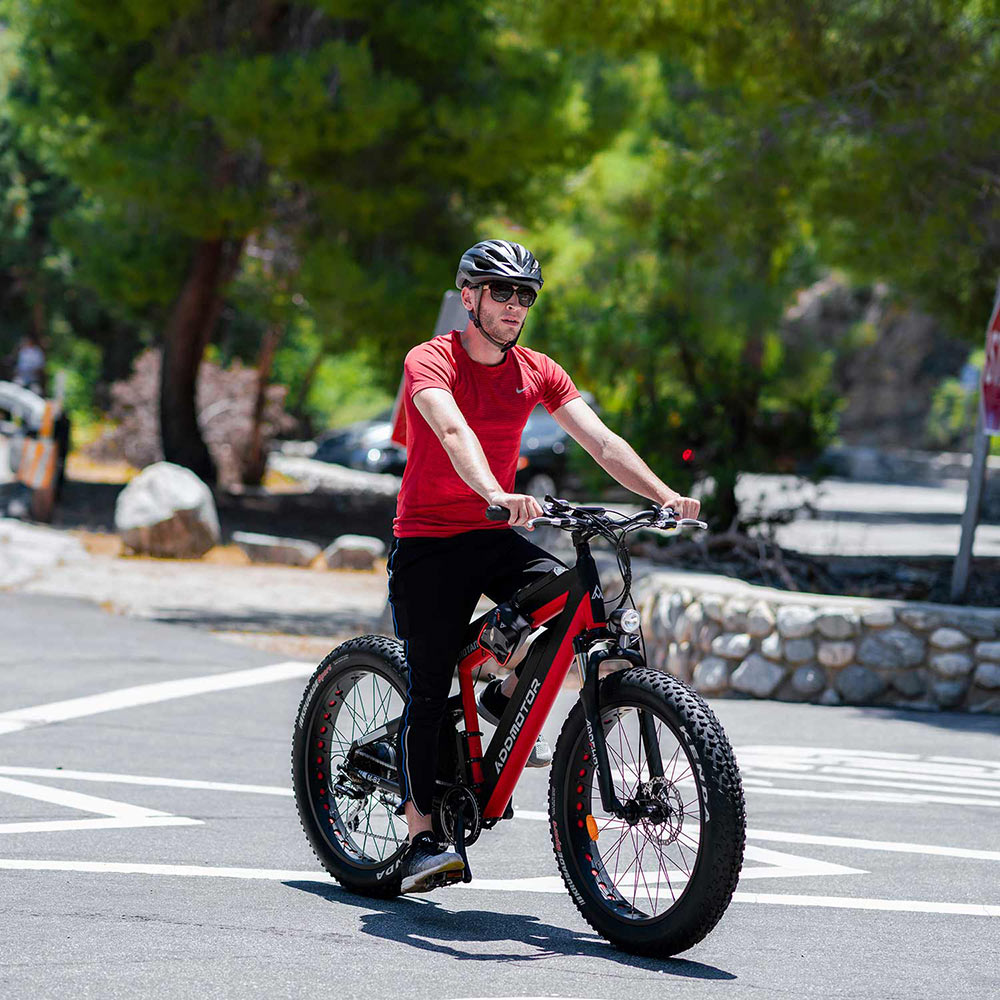 USE ELECTRIC POWER OR PEDAL ASSIST OR MUSCLE POWER TO MOVE ALONG
The M-B2 offers three modes of muscle power, electrical pedal assists or full electrical operation to allow you to cruise effortlessly or help you get to higher top speed, or even climb mountain hills more easily.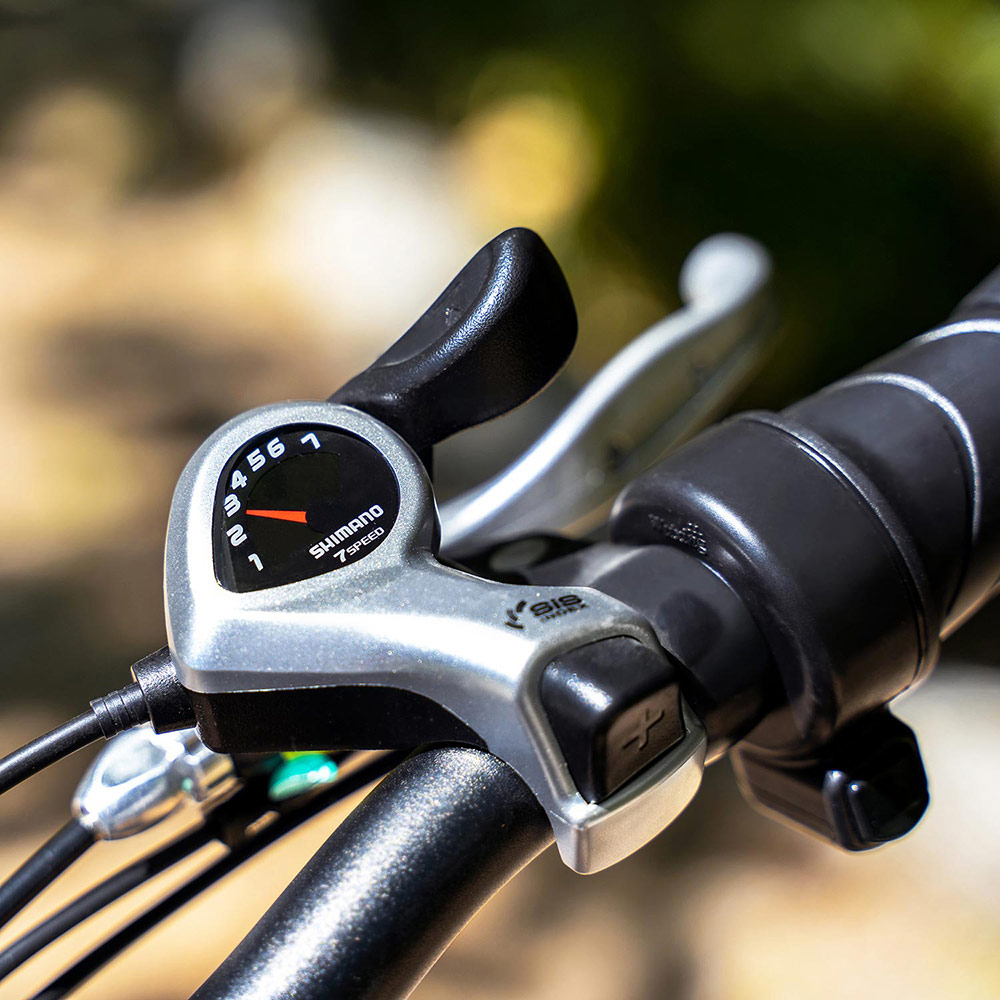 Alloy disc brake
Mechanical MD-M300 180mm F/R alloy disc brakes. It is more powerful, stable, fast and feels good, easy-to-use to help you stop the bike.c
Technical specs
+Electronics
Battery
48V*17.5Ah+10.5Ah Lithium Panasonic Batteries Cell In A Sealed Removable Pack--Easy to Disassemble and Recharge Charging Time 4-6 Hours And Rated For 800 Charge Cycles Range 100-120 Miles With PAS 1
Motor
Bafang 48V*750W Rear Hub Brushless Motor - Special Design For Snow Beach All Terrain
Display
Addmotor 5 Inch LCD Display
Charger
US Standard DC Smart Charger
Controller
Addmotor 25A Controller
Throttle
Variable Speed Control - 1/2 Twist Throttle with ON/OFF Switch
Integrated Wiring
Water-Resistant Connectors And Wiring Harness
+Components
Frame
6061 Aluminium-Alloy Frame
Front Fork
ADDSHOX 100 of Travel, Adjustment, and Lockout
Brake Lever
ektro Mechanical EL555-RT / EL550-RS
Rotors
Tektro MD-M300 180mm / 180mm
Chain
KMC Rust Resistant Chain
Tires
Kenda 26" X 4.0" 30 TPI Fat Tires
Chain Puller
Shimano 7 Speed / ACERA M360
Handlebar
Black Aluminum Handlebar
Pedal
Aluminum Black Pedal
Saddle
Addmotor Comfortable Seat
Seat Post
Quick Release 30cm
Freewheel
Pro Freewheel 7 Speeds
Measurement
The powerful rear hub brushless motor strong enough to carry a rider whose height range of 5'4"-6'4" and weigh 300lbs