Description

Shipping Methods

Payment Methods

Additional Information
Specifications
Size: 26 Inch
Watts: 500W
Battery: 11.6Ah
M-550 is available for Pre-Order now, Estimate Delivery Date Is Around Mid July.
ADDMOTOR MOTAN M-550 500 WATT SPORT ELECTRIC FAT TIRES MOUNTAIN BIKE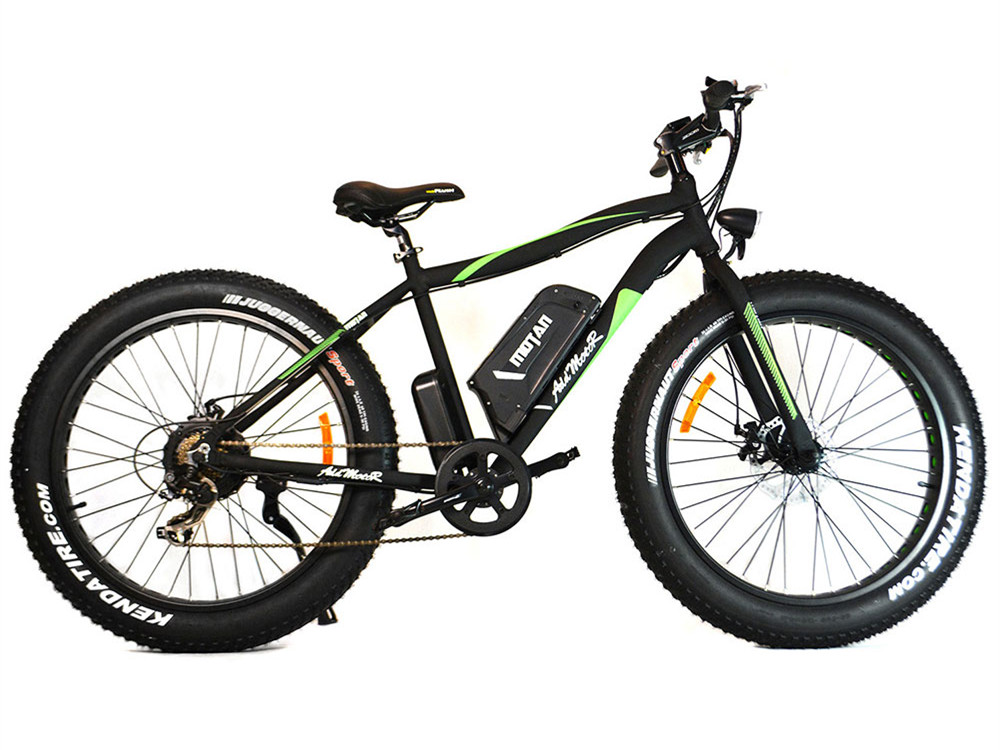 ADDMOTOR MOTAN M-550 ELECTRIC BIKE FEATURES

* MOTAN M-550 electric bike comes packed with 500-watt hub brushless motor and 11.6Ah long-lasting lithium battery which is enough for the power and endurance needs.
* A 5 inch LCD screen display with USB outlet is mounted which clearly displays the vital information such as the range, battery status, speed, riding mode, helping you easy to glance the health of the bike on the go.
* Equally adept on road, on the trail, on the beach or on the snow.
* Without the need for a traditional license or registration,100% fully electric bikes mean no need for gas & no need for additional pollution into our environment.
*The upright riding position and huge four-inch tires make it the most comfortable bike you'll ever ride! It is also very nimble and easy to ride.
* It starts with a sturdy 6061 aluminum alloy steel frame and fork platform. Low-rise style handlebars provide sure handling. Front and rear hand-activated linear-pull brakes slow things down.
* And those big, big tires roll over practically anything. It feels like you're riding on a magic carpet. Plus it just looks so cool!


ADDMOTOR MOTAN M-550 ELECTRIC BIKE SPECIFICATION

Electric System
Battery: 48V*11.6Ah Lithium Cell Batteries In A Sealed Removable Pack
Motor: 48V*500W Rear Hub Brushless Motor
Display: Addmotor 5 Inch LCD Display With USB Port
Distance: Electric Bicycle 45 Mile Range -- Using Level One Pedal Assistant
Charger: 2.5A US Standard DC Smart Charger
Throttle Type: Variable Speed Control - 1/2 Twist Throttle
Accessories Detail
Rear Gears: 7 Speeds TX55 Gears
Freewheel: Pro Freewheel 7 Speeds
Frame: 6061 Aluminum Alloy Frame
Handlebar: Black Aluminum Handlebar
Seat Post: Quick Release 30cm
Pedals: Aluminum Black Pedals
Brakes: Disc Brake Set

Other Detail
Color: Green/Black
Tires Size: 26'' X 4.0'' Fat Tires
Appropriate Height: 5'6"-6'8"
Maximum Load: Electric Bicycle 300lbs
Charger Time: 5-6 Hours, Depending On The Battery Status
Warranty: Technical Support 2 Years. Motor and Battery 1 Year Warranty.
We have a strong tie with the well-fame logistics like Fedex, DHL, UPS, EMS which ensure you to have fast and professional service. We use a high-quality packing box to protect your products well during the delivery.
Paying with Paypal
We accept Paypal payment. Fast, easy and secure payments worldwide – with PayPal! Paypal is a leading online payment provider that offers fast, easy and secure payment solutions worldwide. Paypal provides a cost-effective online payment solution for every merchant, irrespective of their size or sales volume. PayPal enables virtually anyone with an email address to send and receive money in real-time and without sharing sensitive financial details.

Paying with Paypal Credit

Your reusable credit line gives you 6 months of promotional financing on every purchase of $99 or more. 【Details】That means every time you use your PayPal Credit account you get the buying power to shop now and the flexibility to pay over time.

Advantages of using Paypal:
1. Founded in December 1998, PayPal is a leading global online payment company.
2. PayPal has 75 million active registered accounts* (193 million total accounts) and is available in 190 markets. * Active accounts are those that have had activity in the past 12 months.
3. PayPal supports payments in 19 currencies including: U.S. Dollars, Canadian Dollars, Australian Dollars, Euros, Pounds Sterling, Japanese Yen, Chinese RMB, Czech Koruna, Danish Krone, Hong Kong Dollar, Hungarian Forint, New Zealand Dollar, Norwegian Krone, Polish Zloty, Singapore Dollar, Swedish Krona, Swiss Franc, Mexican Peso and Israeli Shekel.
4. PayPal has local Web sites in 18 markets including Australia, Austria, Belgium, Canada, China, France, Germany, Hong Kong, Italy, Spain, Ireland, Mexico, the Netherlands, Singapore, Switzerland, Poland, the United States, and the United Kingdom.
Credit and Debit
We currently accept a variety of credit/debit cards including Visa, MasterCard, and American Express payment from most locations worldwide. It's easy to use a credit/debit card to pay for your Addmotor purchase. Paying by credit card or debit card is safe, easy and convenient.
Warm Tips:
All the payment methods above are responsible for any local handling fees and Intermediary bank handling fees. Therefore, customers should confirm your total payment amounts with your local bank. If we have received your payment, we will send you an e-mail to confirm. So after you pay successfully, don't forget to check your email. And we welcome all your kindly and constructive suggestions about payment methods. Addmotor hopes you can enjoy your shopping experience.
Free shipping excludes Alaska, Hawaii, Puerto Rico.
Handling Time: Within 3 business days of receiving cleared payment.