Description

Free Shipping

Assembly

Payment Methods
Specifications
Size: 20 Inch, 26 Inch
Watts: 750W
Battery: 11.6Ah
ADDMOTOR MOTAN M-150 P7 750W 48V ELECTRIC FAT TIRES FOLDING BIKE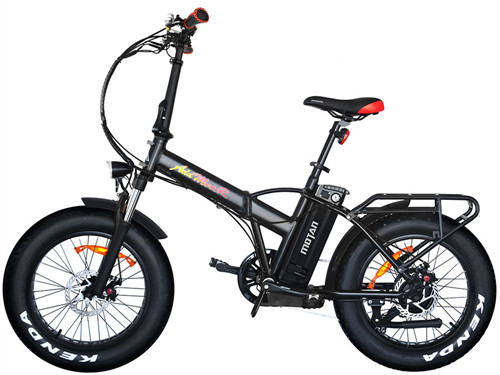 ADDMOTOR MOTAN M-150 P7 ELECTRIC FAT BIKE FEATURES

* STRONG FOLDING FRAME DESIGN. The bike is in a new version as the bike tube is thicker 1/2 than before meaning the folding frame strong and stable enough to hit the trail, portably to store and transport the bike in your car or other conveyances. And it can carry a load of 300lb quite easily.

* POWERFUL MOTOR. MOTAN M-150 P7 comes with a high-speed power motor rated at 750W. The motor is 48V*750W high-speed rear hub brushless motor with a special design for snow, beach, hard and uneven, swamp and damp, even all terrains. You don't need to worry about your bike breaking down on hard terrain. This piece of carefully conceived technological ascension will leave you baffled.

* LONG LASTING LITHIUM BATTERY. The bike is equipped with a high capacity 11.6Ah lithium battery and it's life will never disappoint as a single charge in a span of 4-6 hours can last for long distances up 45-55 miles using the level one pedal assist, charging time depends on the current status of the battery.

* ADDMOTOR 5 INCH LCD AUTOMATIC LIGHR SCREEN DISPLAY. A 5 inches LCD display is mounted on the front tube which comes with light sensor technology and a USB port to charge your phone or electronic device on the go.

* ADJUSTABLE HANDLEBAR AND SADDLE. Both the black lithium handlebar front tube and the pretty comfortable saddle can be adjusted according to the height. Appropriate height for this bike is 5'4''-6'4''.

* MOZO FRONT FORK SUSPENSION. 40MM travel front fork suspension makes the biking trip comfort and smooth.

* COMES WITH A PAIR OF FENDERS AND A REAR RACK.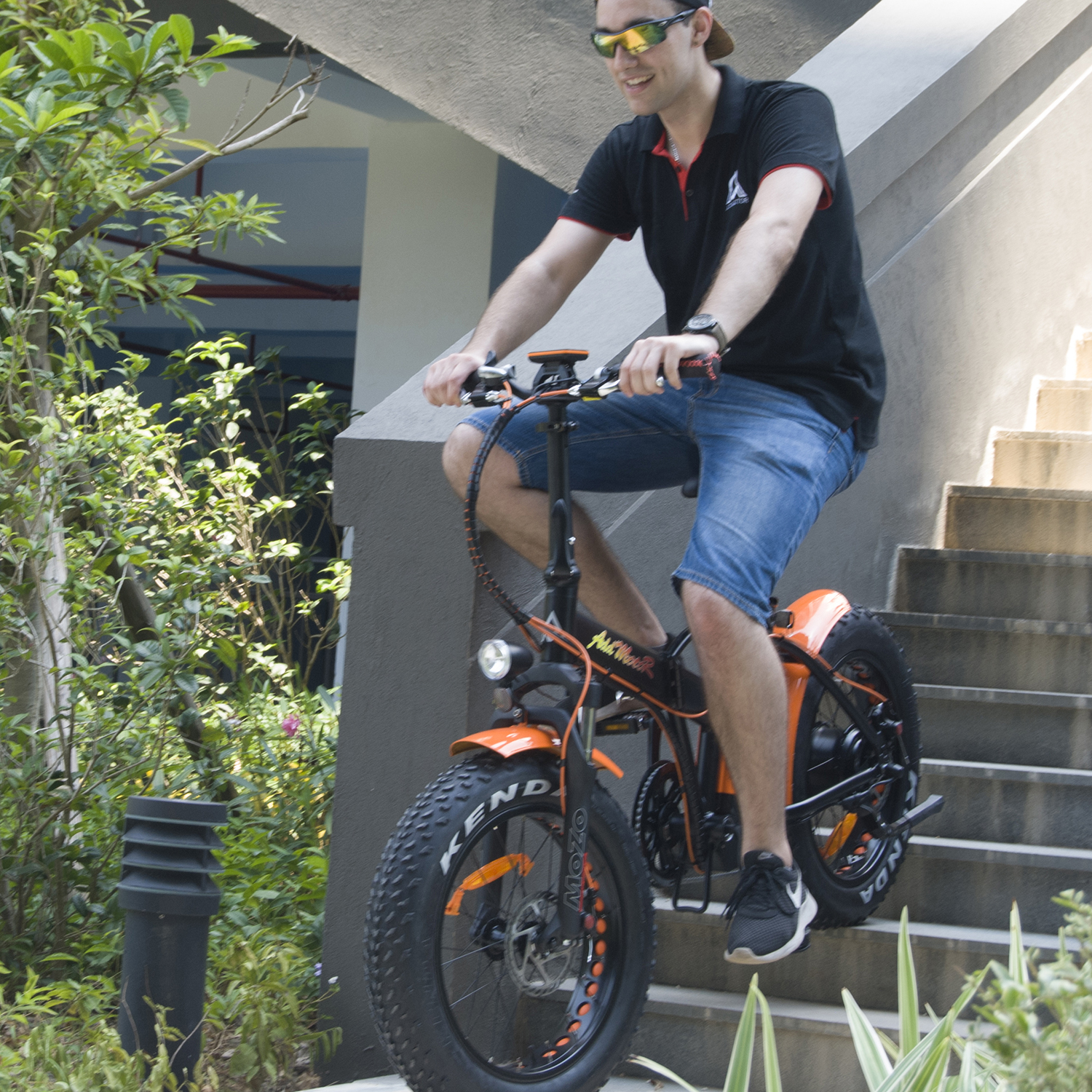 MOTAN M-150 P7 E-bike of the Newest 750 Watt high-speed motor will make you feel like superman and pushes you powerful forward. An upgraded 48V 11.6Ah long-lasting battery and improved reliability. You could go to places that your traditional bike would never allow. This e-bike allows you to ride more difficult trails for longer distances. You will see, once you got on this power fat folding bike you never want to have another one.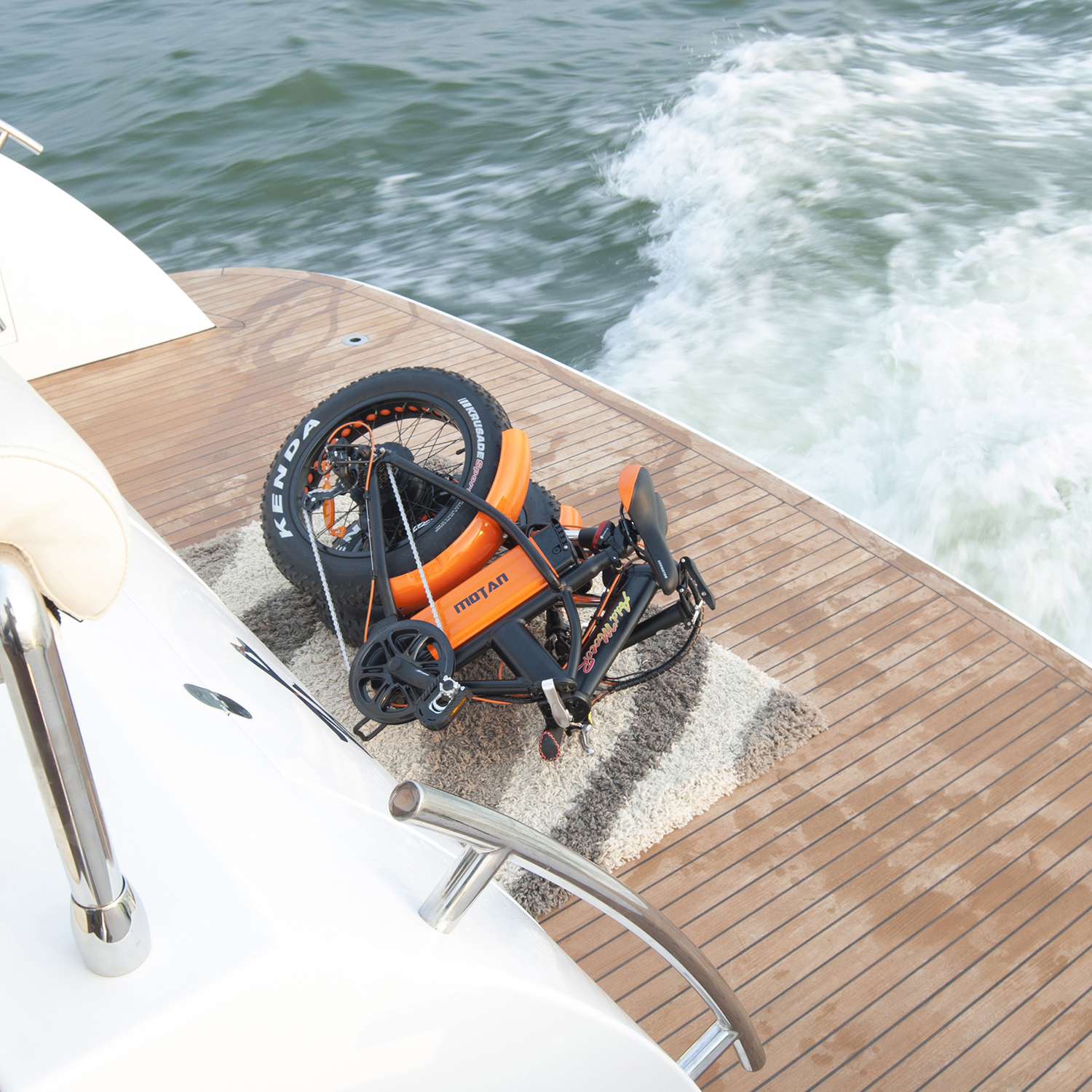 Strong aluminum alloy folding frame, beautiful and easy to put together. Collapsible top-tube, frame and pedals in 10 seconds, easily store into any vehicle and transport the bike.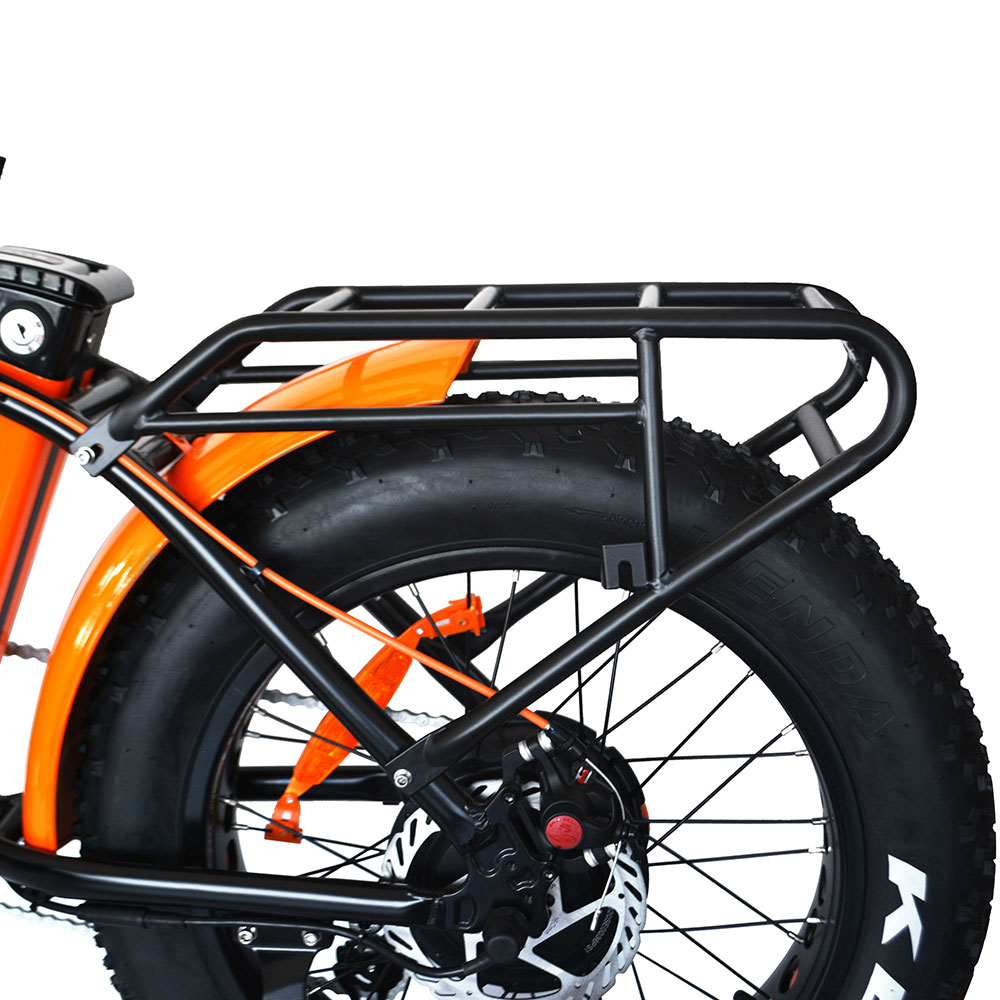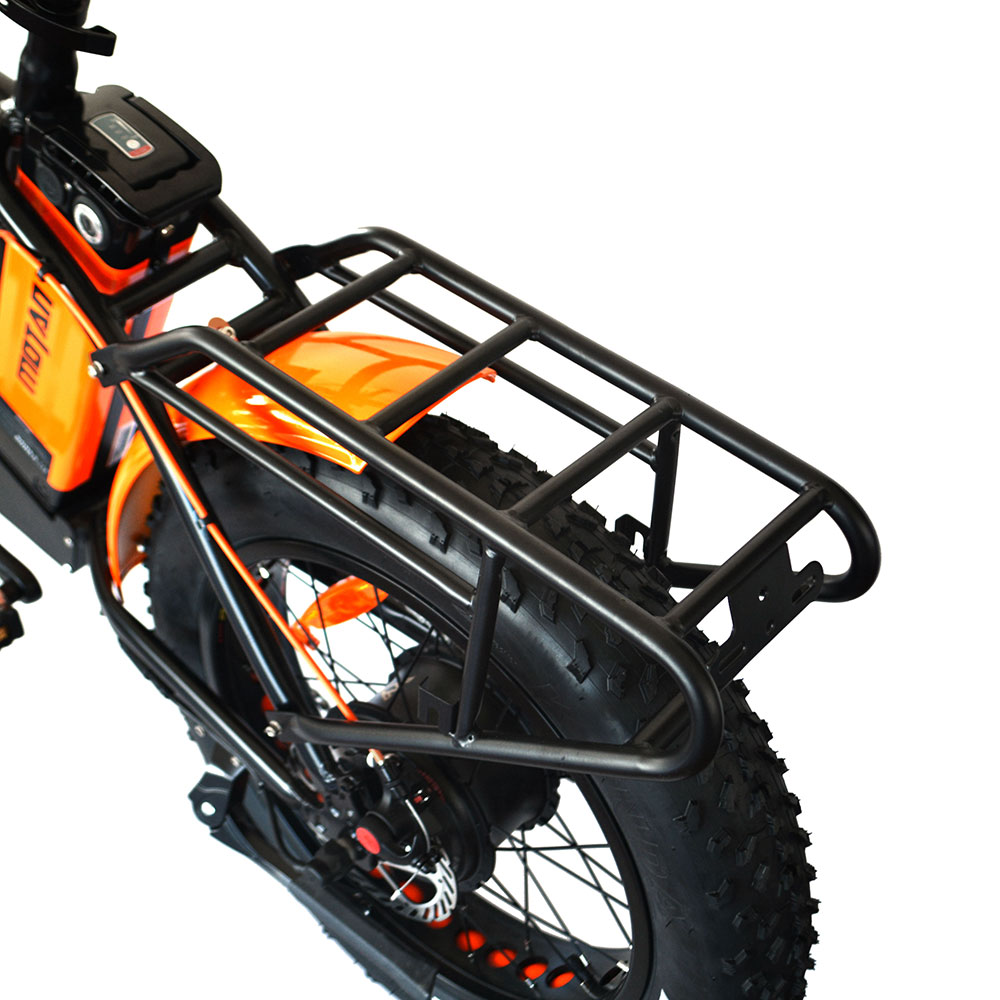 The new upgrade strong and stiff aluminum alloy rear rack can be easily assembled and disassemble, achieving multiple uses in daily life. It will be a good helper riding the bike when going shopping, manned or carry something.

Fashionable design, eye-catching. Get a few friends together and start your trip at the weekend and enjoy the time! You can go to anywhere you want to go with this portable folding e-bike. So many people say "wow" when you ride it. It will be your favorite bike you have ever owned.


ADDMOTOR MOTAN M-150 P7 ELECTRIC FOLDING FAT BIKE SPECIFICATION

Electric System
Battery: 48V*11.6Ah Long Lasting Lithium Panasonic Cell Batteries In A Sealed Removable Pack
Motor: 48V*750W Bafang High-speed Rear Hub Brushless Motor - Special Design For Snow Beach All Terrain
Display: Addmotor 5 Inch LCD Automatically Light-sensitive Display With USB Port
Controller: Addmotor 22A / 25A Controller
Charger: 2.5A US Standard Smart Charger
Throttle: Variable Speed Control - 1/2 Twist Throttle with ON/OFF Switch

Accessories Detail
Frame: 6061 Aluminium-Alloy Folded Frame
Front Fork: Addshox Aluminum 70mm Travel Suspension Fork, Adjustment and Lockout
Brake Lever: Tektro Mechanical EL555-RT / EL550-RS
Rotors: SRAM BB5 or Tektro MD-M300 180mm / 160mm
Chain Puller: Shimano 7 Speed / ALTUS M310
Chain: KMC Rust Resistant Chain
Tires: Kenda 20'' X 4.0'' 60 TPI Fat Tires
Handlebar: Black Aluminum Handlebar
Saddle: Addmotor Comfortable Seat
Seat Post: Quick Release 30cm
Seat Post Diameter: 27.2mm
Rear Rack: Aluminium-Alloy Rack
Pedals: Aluminum Black Folded Pedals
Freewheel: Pro Freewheel 7 Speeds
Integrated Wiring: Water-Resistant Connectors and Wiring Harness
Headlight: Powered by Main Battery and Controlled by Display

Other Detail
Color: Orange / Mattle Black
Range: 45-55 Miles with PAS 1
Charger Time: 4-5 Hours. Depending On The Battery Status
Battery Life: Rated for 800 Charge Cycles
Appropriate Height: 5'4"-6'4"
Maximum Load: Electric Bicycle 280lbs
N.W / G.W: 65lbs / 82lbs

Sizing
Reach: 25''
Seat Tube: 18''
Stand Over Height: 25.5''
Height: 29.5''
Unfolded Width: 23''
Unfolded Length: 67.5''
Folded Width: 16''
Folded Length: 45''






FREE SHIPPING to all 48 Contiguous States

*INCLUDED TAX FEE

There Absolutely is including Sales Tax and Hidden Fee-charging When You Checkout.


Shipping Time:

Your order will be shipped within 1 to 2 business days ( Ex: your order is placed on Wednesday, it will be shipped on Thursday or Friday. If your order is placed on Friday, it will be shipped on the next business days, Monday or latest will be Tuesday). Also order placed on the weekend, holiday or order received
after 1 pm on weekdays will be processed the next working day.

Once the item been shipped, you will receive the tracking number immediately to the email provided to us during checkout. You can also log in to your Addmotor account to view the tracking number information.

Are you living in Alaska or Hawaii? No worries, even we can't get you the Free Shipping but we promised we will not charge you any penny more than the shipping carriers quote us. Please send us an email and we will be very happy to get you a quote to your shipping address.


Who Shipped My Product?

We ship via UPS and Fedex for most electric bicycles, USPS for small parts and accessories, and Road Runner and Estes Express freight for mopeds and tricycles.
We order signature required delivery on every order over $100. You will need to have someone over the age of 18 present at the time of delivery to accept the shipment.


Backorders:

From time to time, a product may run out of stock at our warehouse and the website wasn't updated when you placed your order. In that case, we will send you an email right after you place your order informing you of the backorder, what the expected time for arrival is, and what substitutes are available in case you are interested in getting a bike sooner.
The expected arrival time may change due to unforeseen circumstances like a shipment getting held up at the port upon arrival or the factory missing a certain part needed to complete the manufacturing process.
If the arrival time changes on your order, you can let us know whether you would like to keep the order, substitute for a different electric bicycle, or cancel the order altogether.
Once back orders arrive, we will be informing you by email with your estimated ship date and you will receive an email with tracking information within 1-3 business days.
Easy Assembly

To All our Lovely Customers,

Our bikes are delivered with 80 to 90% assembled. Most of our customers are totally cool with installing the rest themselves.

For these bikes, you'll need to assemble the following components:
Handlebars
Front Wheel
Pedals(It's crucial that these are installed properly!)
Seat
Paying with Paypal
We accept Paypal payment. Fast, easy and secure payments worldwide – with PayPal! Paypal is a leading online payment provider that offers fast, easy and secure payment solutions worldwide. Paypal provides a cost-effective online payment solution for every merchant, irrespective of their size or sales volume. PayPal enables virtually anyone with an email address to send and receive money in real-time and without sharing sensitive financial details.

Paying with Paypal Credit

Your reusable credit line gives you 6 months of promotional financing on every purchase of $99 or more. 【Details】That means every time you use your PayPal Credit account you get the buying power to shop now and the flexibility to pay over time.

Advantages of using Paypal:
1. Founded in December 1998, PayPal is a leading global online payment company.
2. PayPal has 75 million active registered accounts* (193 million total accounts) and is available in 190 markets. * Active accounts are those that have had activity in the past 12 months.
3. PayPal supports payments in 19 currencies including: U.S. Dollars, Canadian Dollars, Australian Dollars, Euros, Pounds Sterling, Japanese Yen, Chinese RMB, Czech Koruna, Danish Krone, Hong Kong Dollar, Hungarian Forint, New Zealand Dollar, Norwegian Krone, Polish Zloty, Singapore Dollar, Swedish Krona, Swiss Franc, Mexican Peso and Israeli Shekel.
4. PayPal has local Web sites in 18 markets including Australia, Austria, Belgium, Canada, China, France, Germany, Hong Kong, Italy, Spain, Ireland, Mexico, the Netherlands, Singapore, Switzerland, Poland, the United States, and the United Kingdom.
Credit and Debit
We currently accept a variety of credit/debit cards including Visa, MasterCard, and American Express payment from most locations worldwide. It's easy to use a credit/debit card to pay for your Addmotor purchase. Paying by credit card or debit card is safe, easy and convenient.
Warm Tips:
All the payment methods above are responsible for any local handling fees and Intermediary bank handling fees. Therefore, customers should confirm your total payment amounts with your local bank. If we have received your payment, we will send you an e-mail to confirm. So after you pay successfully, don't forget to check your email. And we welcome all your kindly and constructive suggestions about payment methods. Addmotor hopes you can enjoy your shopping experience.