Description

Shipping Methods

Payment Methods

Additional Information
Specifications
Size: 27.5 Inch
Watts: 500W
Battery: 10.4Ah
UPC: BLU:766330244650
*Picked up in our warehouse will get 50% off.

Note:
*This is a sample bike for the exhibition,so it is not in new condition.There are maybe little scratches on the bike tube,and it is been 9.5 miles driving away,but it won't affect normal use. Otherwise,everything else is intact. It comes with all original accessories that it will goes.
*Return policy:all sales are final.*Please read the ADD seriously and think before you place an order.


ADDMOTOR HITHOT H1 500 WATT 48V ELECCTRIC MOUNTAIN BIKE WITH FULL SUSPENSION, PEDAL ASSIAT, 27.5 INCH WHEEL, THROTTLE-ON-DEMAND AND LCD SCREEN DISPLAY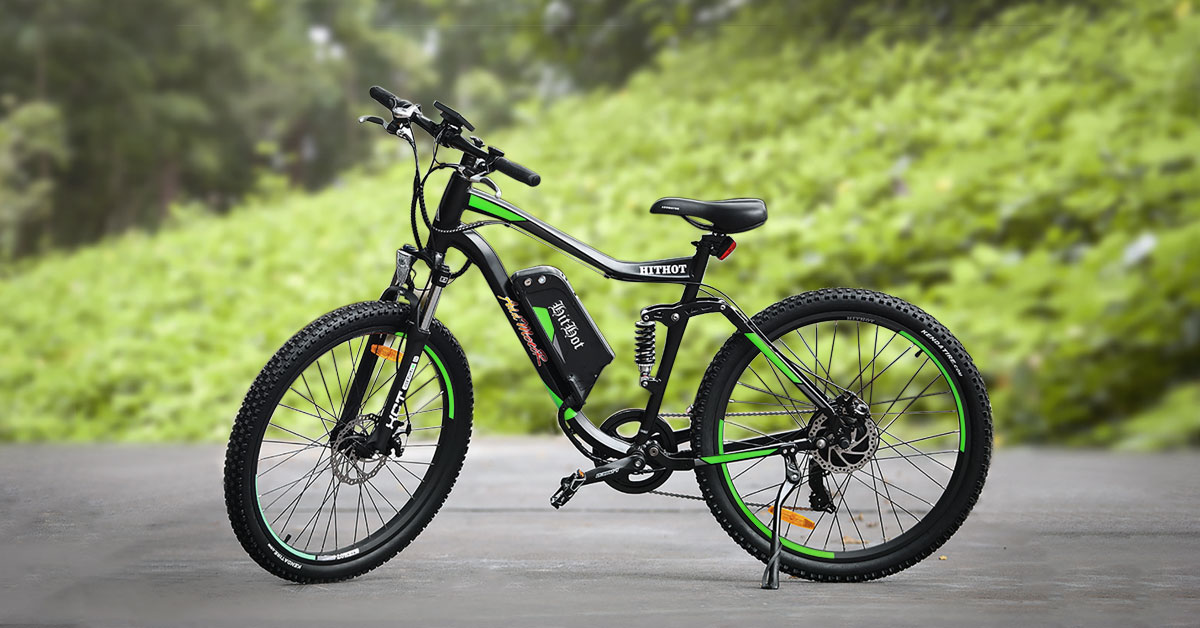 ADDMOTOR HITHOT H1 FEATURES
* Aluminum Alloy Streamline Bike Frame Design.

* Throttle,Pedal Assist and Muscle Power To Hit The Trail. Addmotor electric bikes have three mode: throttle, pedal assist and muscle power.Using muscle power in daily city commute, hit the trail differently by utilizing pedal assist to help you climb hills easier,or try to use the throttle going full electric for a new biking experience.

* Large Power Motor.The super 500 watt brushless will make you enjoy the bicycling ceaselessly, give you enough power to get reach anywhere you want to go.

* Full Suspension. Double suspension and stiff and durable alloy frame smoothing out the rough roads and absorbing bumps. Making more comfortable for long distance mountain biking and trail riding.

* Built To Last. Addmotor HITHOT H1 used tough components for its drivetrain.The strong and stiff frame can carry up to 300lb.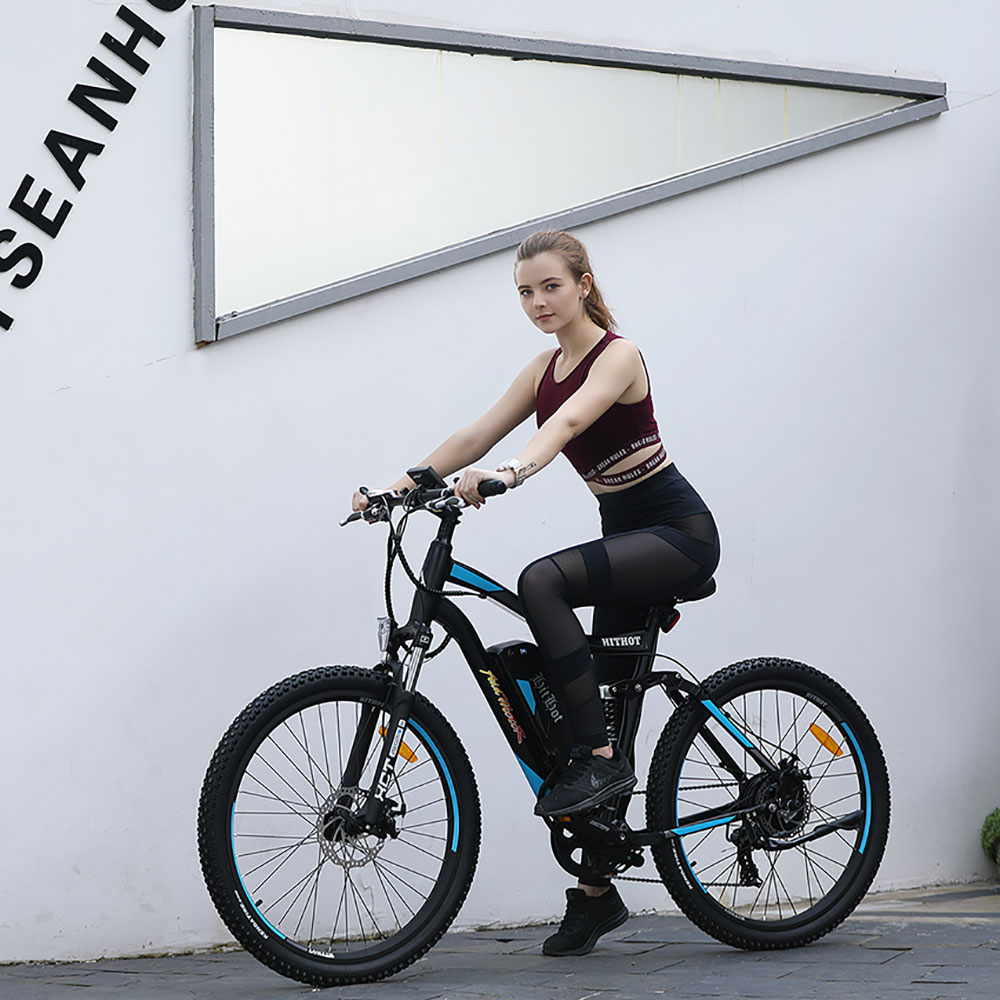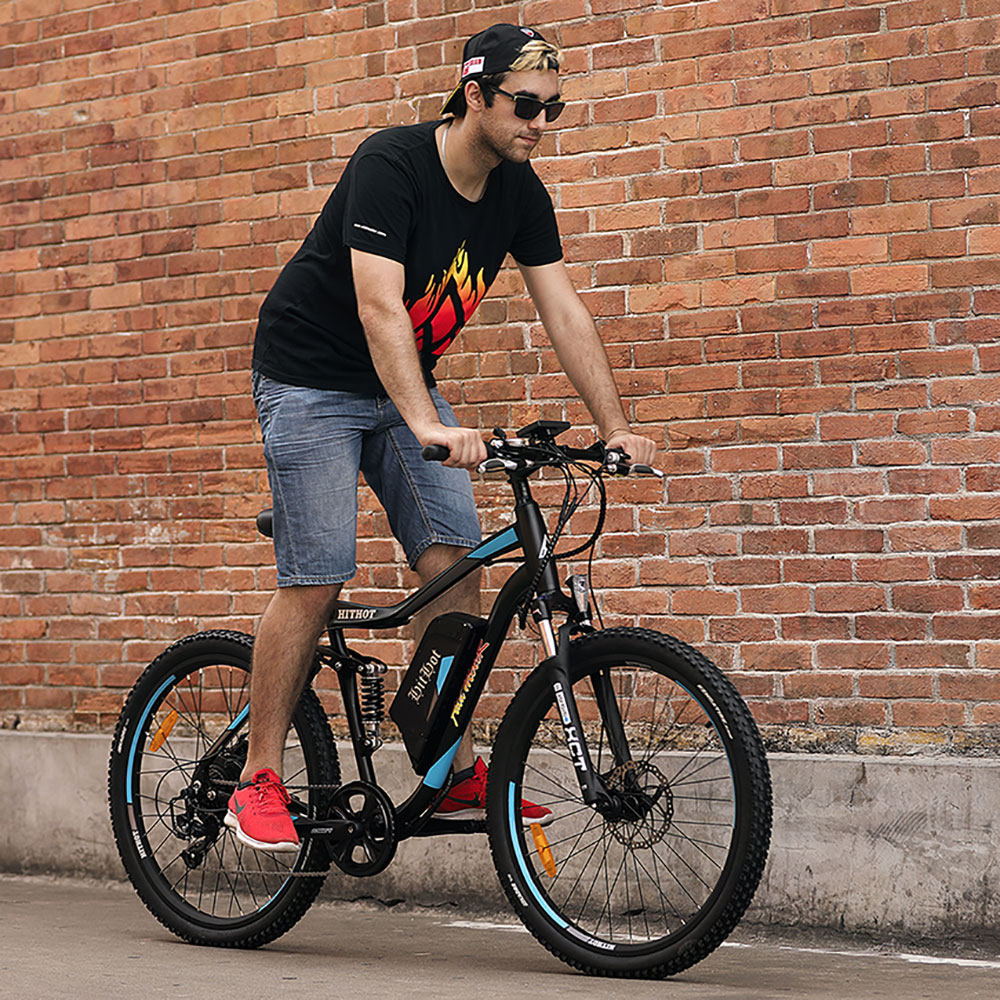 You can not find another E-bike more advantages than HITHOT H1. Simple assembly,streamlined stiff and durable frame design,500 Watt powerful motor,full suspension,LCD screem,pedal assist,throttle-on-demand etc... 27.5 inch tire make this bike be an absolute blast to ride and a total lifesaver for your mountain biking and daily commute through the city.Give you a best journey!!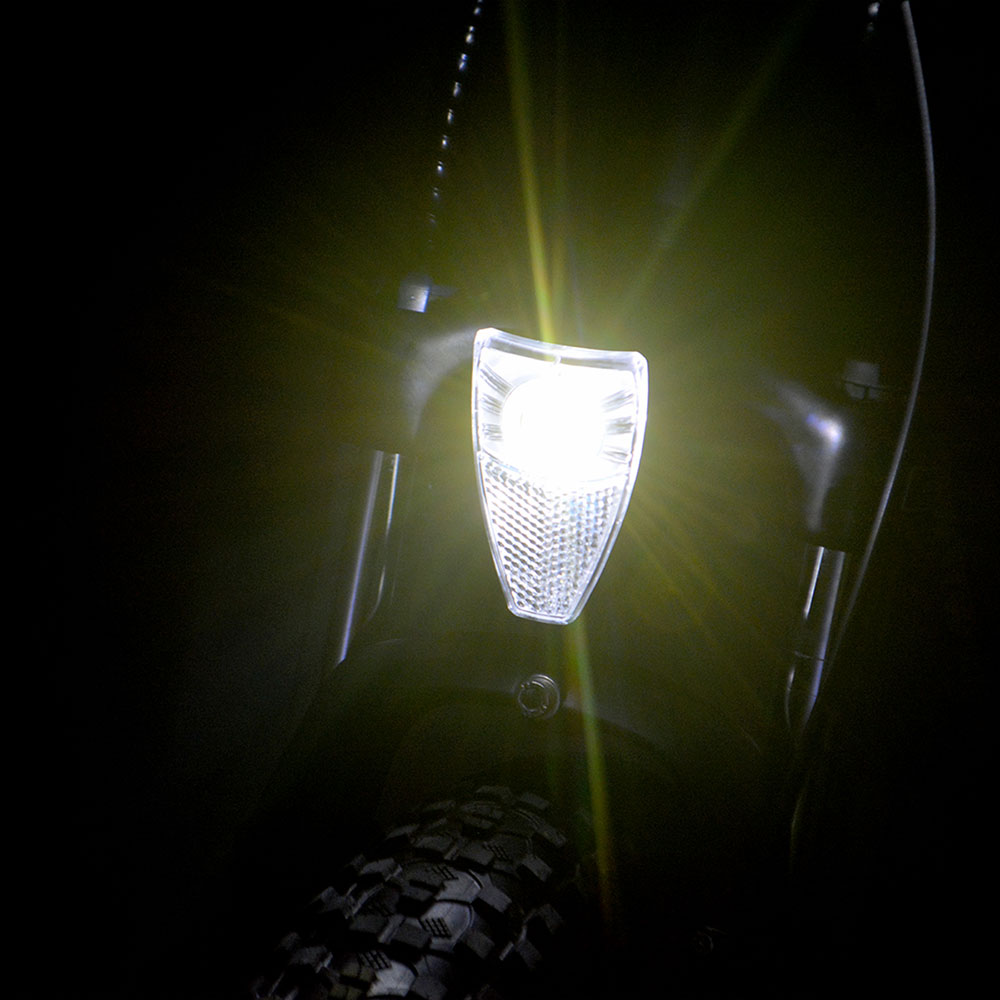 48V*10.4AH Lithium Cell Battery gives you lots of power. Super long life! High capacity makes you no worry about the endurance of the bike.At the same time,the battery also give enough power to the headlight to light up the night or the dark environment.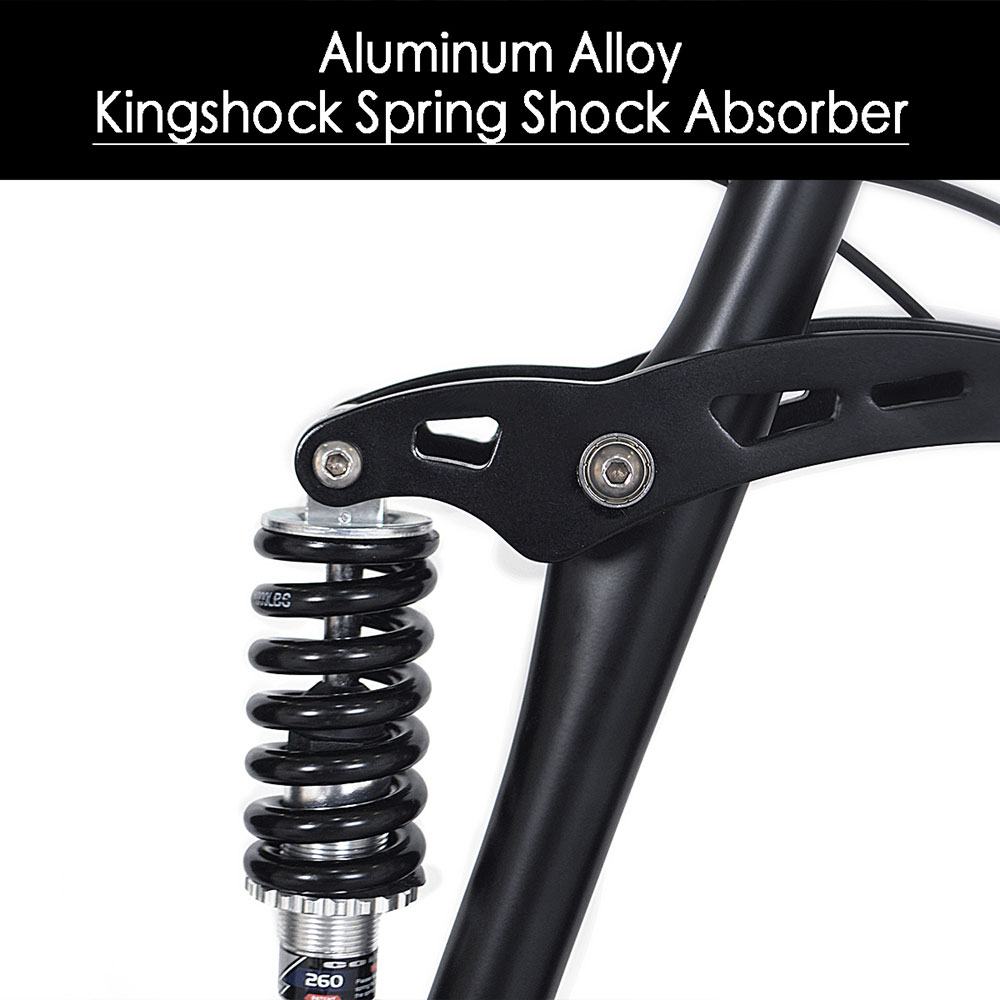 SR Suntour XCT 100mm Travel Front Fork Suspension, Aluminum Alloy Rear Kindshock Spring Shock Absorber.Double suspension and stiff and durable alloy frame smoothing out the rough roads and absorbing bumps. Make more comfortable for long distance mountain biking and trail riding.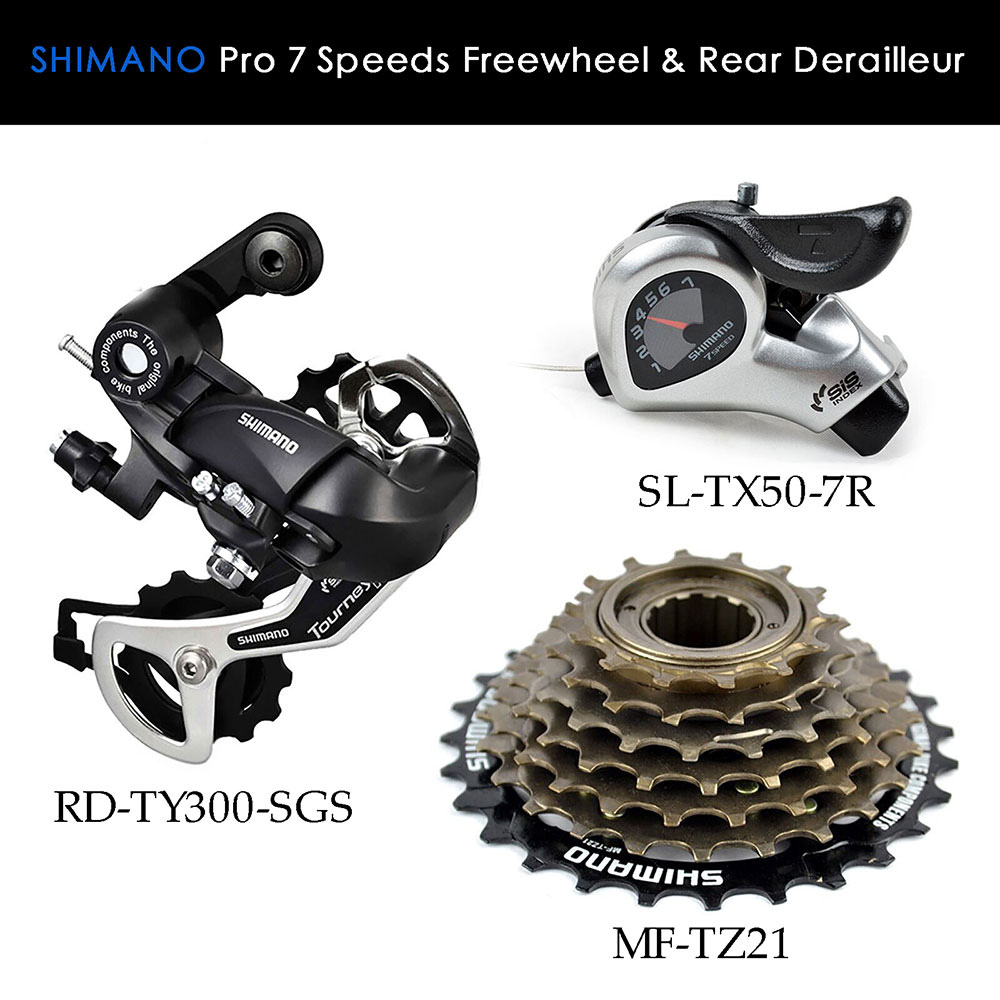 Cool,fashionable and profession 5 inch LCD multi-function display show the parameters clearly including battery status, temperature,speed,miles,light status and biking mode,all these features can well meet any of your need,easily to glance the health of the bike on road.

All the bike's components like the Shimano derailleur, SR SUNTOUR XTC Aluminum/Iron Front Fork, and KINGSHOCK Spring Shock Absorber, are in high quality,very tough and will last for years.

ADDMOTOR HITHOT H1 ELECTRIC MOUNTAIN BIKE SPECIFICATION
Electric System
Battery: 48V*10.4AH Lithium Cell Batteries
Motor: 48V*500W Rear Hub Brushless Motor - Special Design For Mountain
Display: Addmotor 5 Inch LCD Display
Front Light: BLAZE-Lite Electric Light
Rear Light: BLAZE-Lite Battery Light
Distance: Electric Bicycle Single Charge Is 60 Miles Using The Level One Assist.
Charger: US Standard 2.5A DC Smart Charger
Throttle Type : Variable Speed Control - 1/2 Twist Throttle

Accessories Detail
Rear Gears: 7 Speeds TX55 Gears
Frame: Stiff and Durable 6061 Aluminium-Alloy Frame Qptimized For Fun On Off Road Trails
Handlebar: Black Aluminum Handlebar
Fork: SR Suntour XCT 100mm Travel Suspension
Absorber: Aluminum Alloy Kindshock Spring Shock Absorber
Bike Seat: Addmotor Comfort seat
Seat Post: Quick Release 30cm
Pedals: Aluminum Black Pedals
Brake Lever: Disc Brake Lever
Brakes: Front 180mm & Rear 160mm Alloy Disc Brake
Freewheel : Pro Freewheel 7 Speeds
Tire: 27.5" X 2.35'' Mountain Tire
Tailstock: Support for the installation of quick-load tailstock

Other Detail
Color: Green
MaxSpeed: 25 MPH(Just Bike Worked)
Charger Time: 3-4 Hours. Depending On The Battery Status
Appropriate Height: 5'5"-6'6"
Maximum Load: Electric Bicycle 300lbs
Bike Net Weight: 52lbs

Warranty: Technical Support 2 Years. Motor and Battery 1 Year Warranty.
We have a strong tie with the well-fame logistics like Fedex, DHL,UPS,EMS which ensure you to have a fast and professional service. We use high quality packing box to protect your products well during the delivery.
Paying with Paypal
We accept Paypal payment. Fast, easy and secure payments worldwide – with PayPal! Paypal is a leading online payment provider that offers fast, easy and secure payments solutions worldwide. Paypal provides a cost effective online payment solution for every merchant, irrespective of their size or sales volume. PayPal enables virtually anyone with an email address to send and receive money in real time and without sharing sensitive financial details.

Paying with Paypal Credit

Your reusable credit line gives you 6 months promotional financing on every purchase of $99 or more. That means every time you use your PayPal Credit account you get the buying power to shop now and the flexibility to pay over time.

Advantages of using Paypal:
1. Founded in December 1998, PayPal is a leading global online payment company.
2. PayPal has 75 million active registered accounts* (193 million total accounts) and is available in 190 markets. * Active accounts are those that have had activity in the past 12 months.
3. PayPal supports payments in 19 currencies including: U.S. Dollars, Canadian Dollars, Australian Dollars, Euros, Pounds Sterling, Japanese Yen, Chinese RMB, Czech Koruna, Danish Krone, Hong Kong Dollar, Hungarian Forint, New Zealand Dollar, Norwegian Krone, Polish Zloty, Singapore Dollar, Swedish Krona, Swiss Franc, Mexican Peso and Israeli Shekel.
4. PayPal has local Web sites in 18 markets including Australia, Austria, Belgium, Canada, China, France, Germany, Hong Kong, Italy, Spain, Ireland, Mexico, the Netherlands, Singapore, Switzerland, Poland, the United States and the United Kingdom.
Credit and Debit
We currently accept a variety of credit/debit cards including Visa, MasterCard, and American Express payment from most locations worldwide. It's easy to use a credit/debit card to pay for your Addmotor purchase. Paying by credit card or debit card is safe, easy and convenient.
Warm Tips:
All the payment methods above are responsible for any local handling fees and Intermediary bank handling fees. Therefore, customers should confirm your total payment amounts with your local bank. If we have received your payment, we will send you an e-mail to confirm. So after you pay successfully, don't forget to check your email. And we welcome all your kindly and constructive suggestion about payment methods. Addmotor hopes you can enjoy your shopping experience.
Free shipping exclude Alaska, Hawaii, Puerto Rico.
Handling Time: Within 3 business days of receiving cleared payment.