m340
ORDER IT NOW TO ENJOY THE EARLY BIRD PRICE - $1020 OFF!
The 2021 latest electric trike M-340 is available now. Combining the advantages of all Addmotor tricycles,
it will give you the most impressive experience.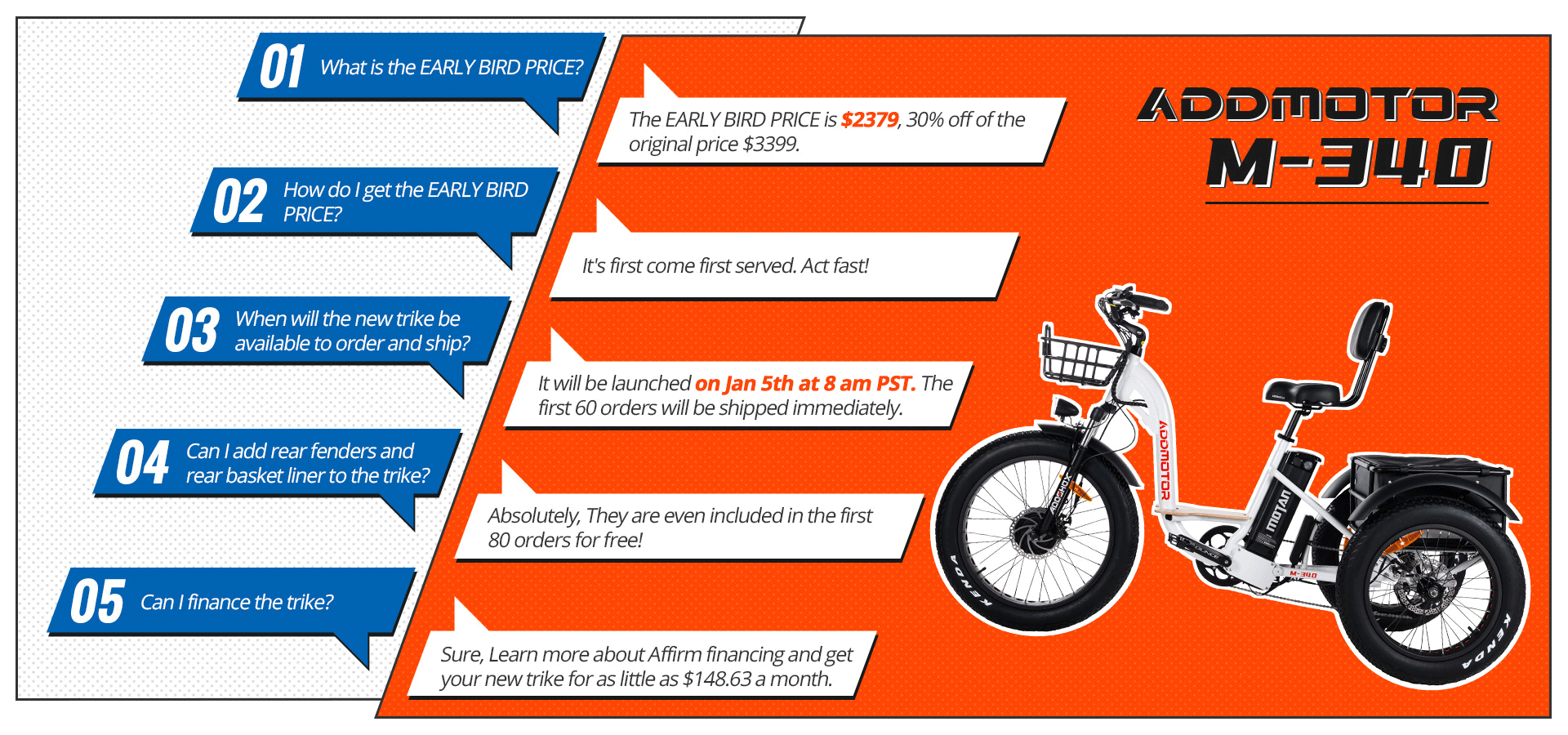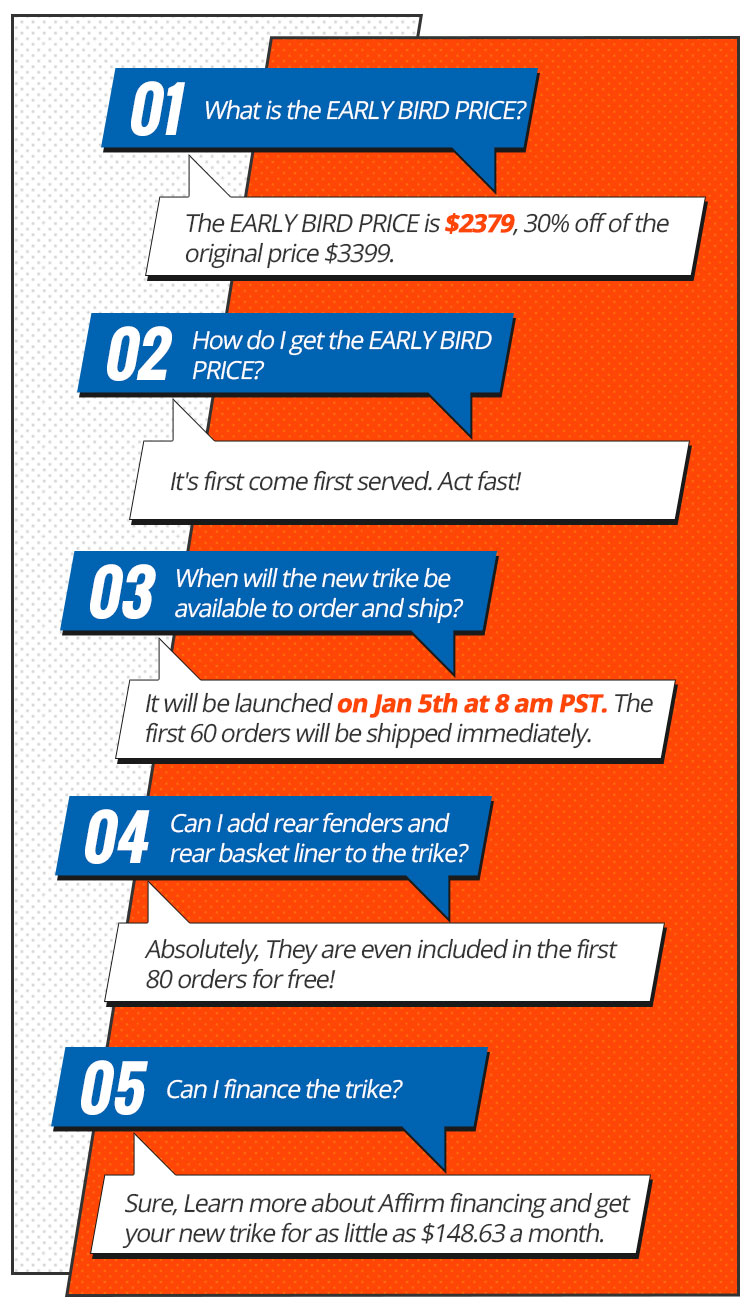 ADD COLOR TO YOUR RIDING
STARRY BLUE: This bike has a black color frame under normal lighting. However, it will turn into starry blue when you look at it under strong lighting environment or have a closer look.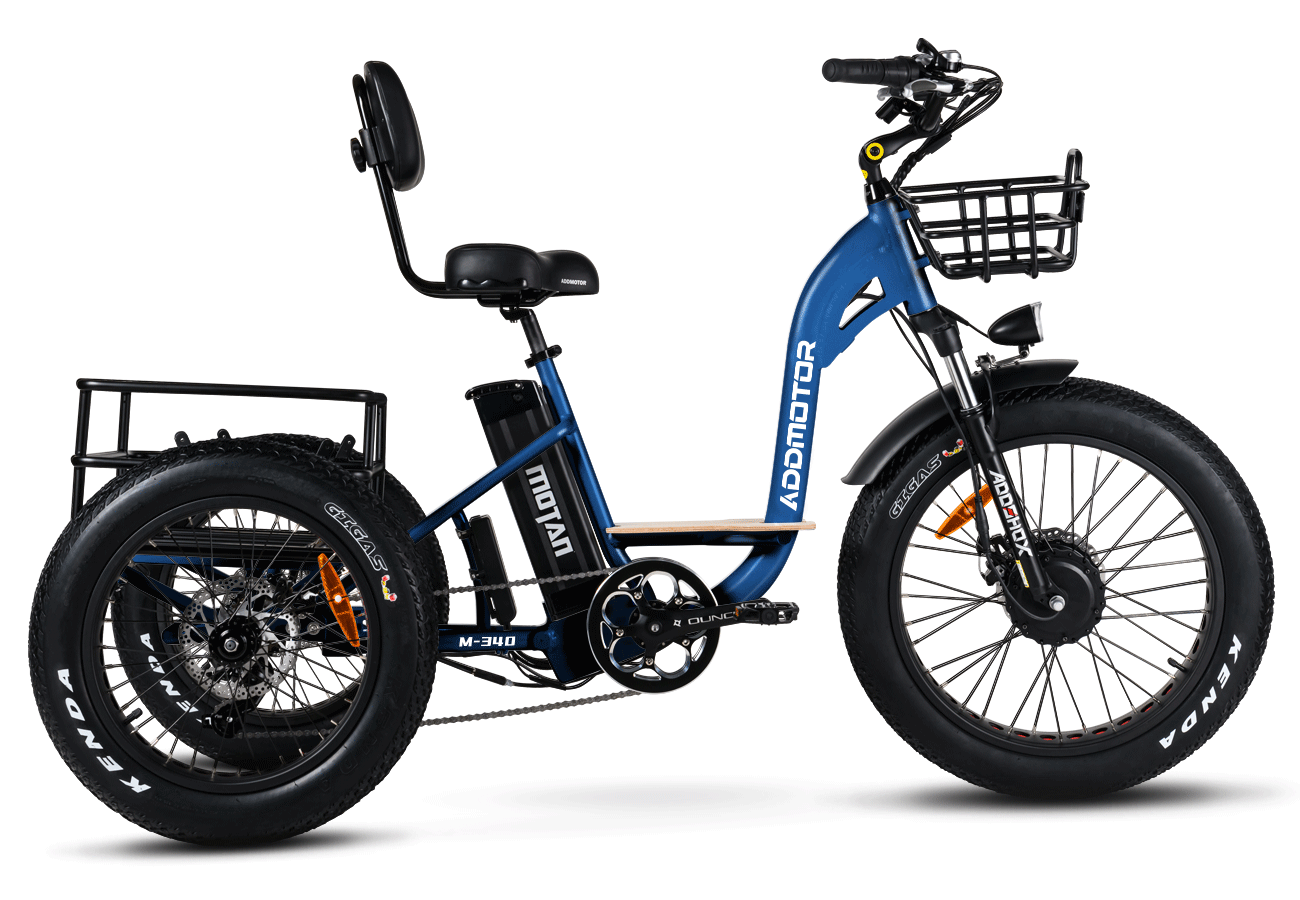 NEPTUNE BLUE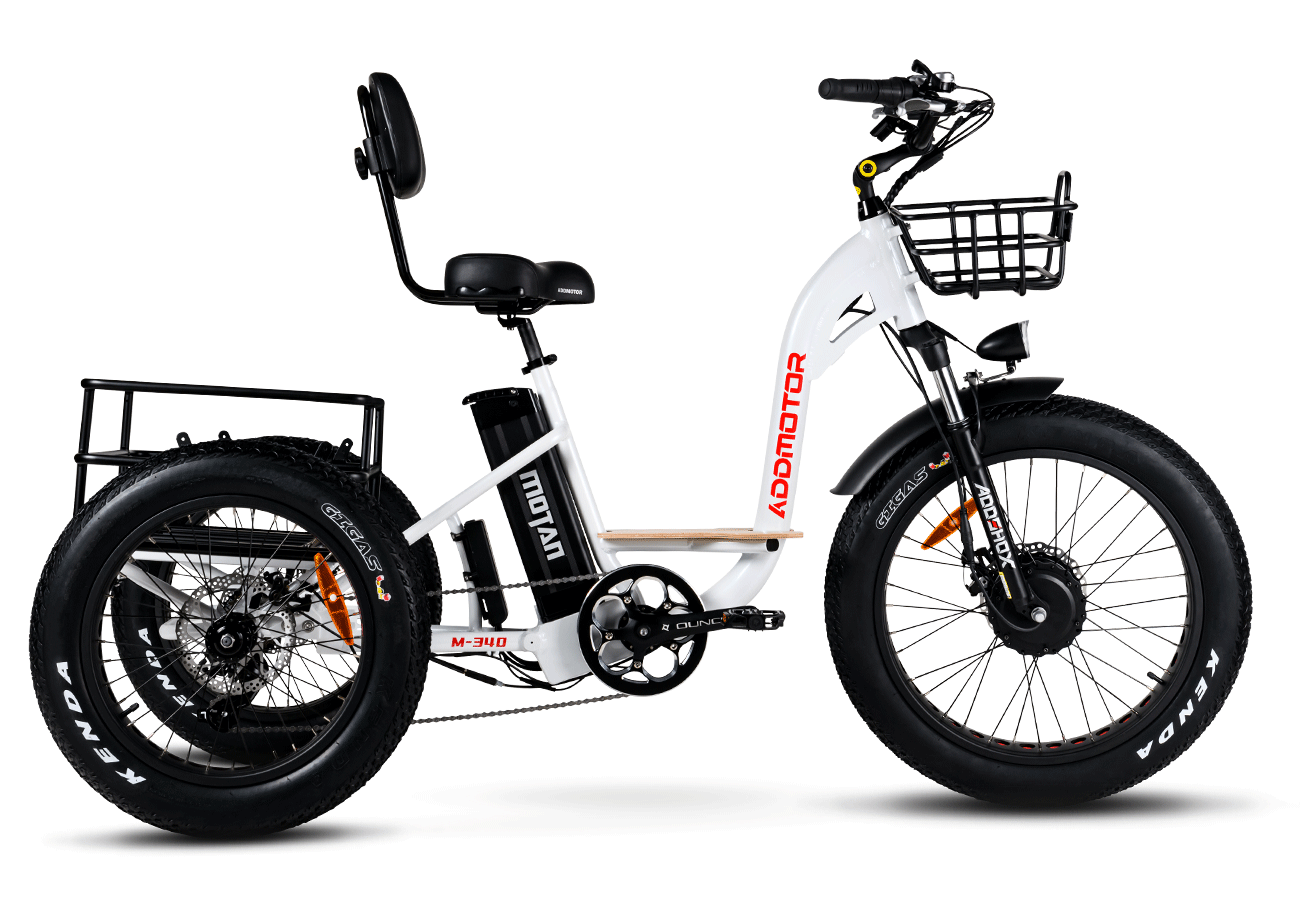 PEARL WHITE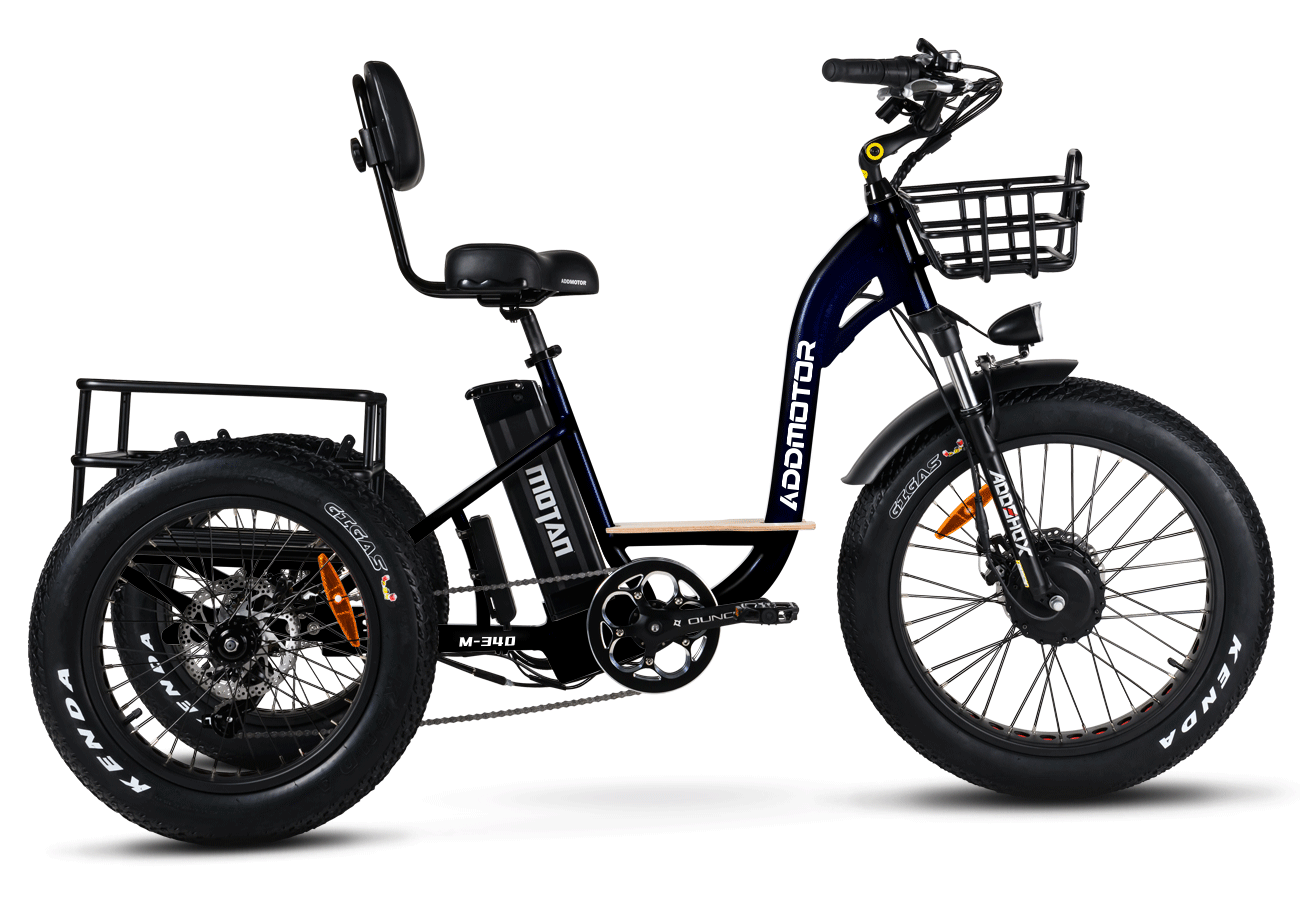 STARRY BLUE
KEY
FEATURES
750 W

Bafang Brushless Motor

750 W

Bafang Motor

16 Ah

Long Lasting Battery

16 Ah

Long Lasting Battery

20 MPH

Maximum Speed

50+ Miles

Per Charge with PAS 1

50+ Miles

Per Charge with PAS 1

80 N·m

High Torque

UPRIGHT

Riding Position

350 lbs

Payload Capacity

48 L

Large Storage Basket

48 L

Large Storage Basket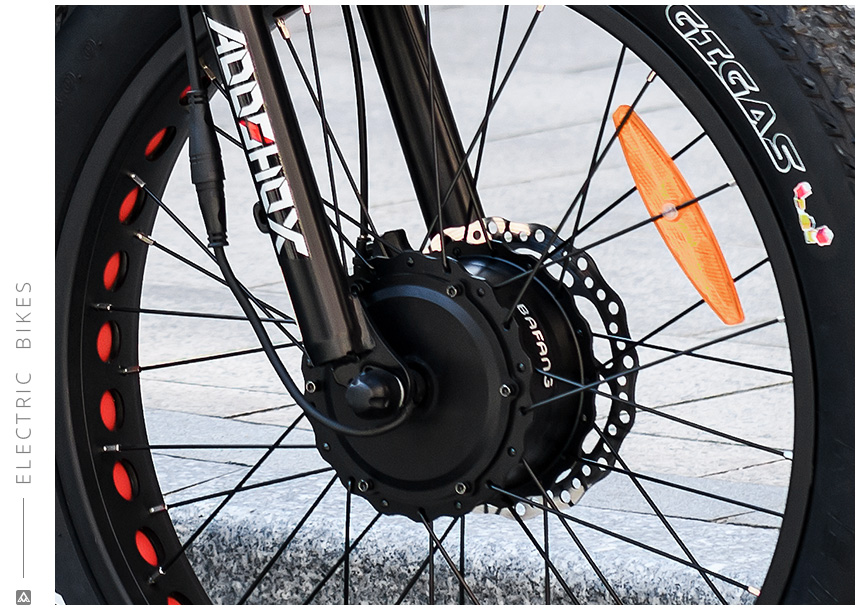 Ready to conquer the terrains
To pursue powerful performance, M-340 is equipped with the Bafang front hub motor that packs 750 Watts of nominal power with incredibly smooth acceleration.
1000+ Watts at Peak
|
20 MPH
|
80N·m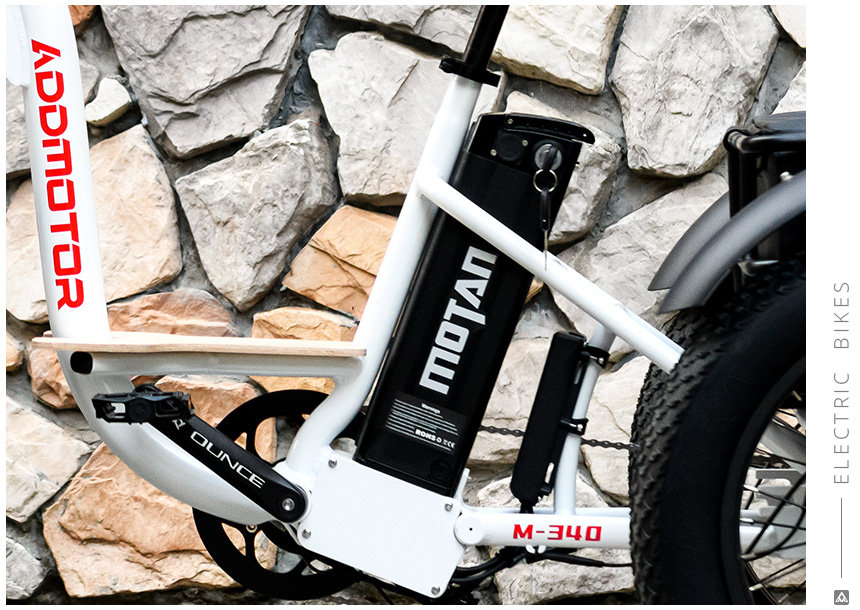 Ready to travel around the city
Using genuine Panasonic 3200 lithium-ion battery cells, a large capacity battery allows a long cruising range. No worries about running of power and going anywhere as you wish.
16 Ah
|
50-55+ Miles
|
Removable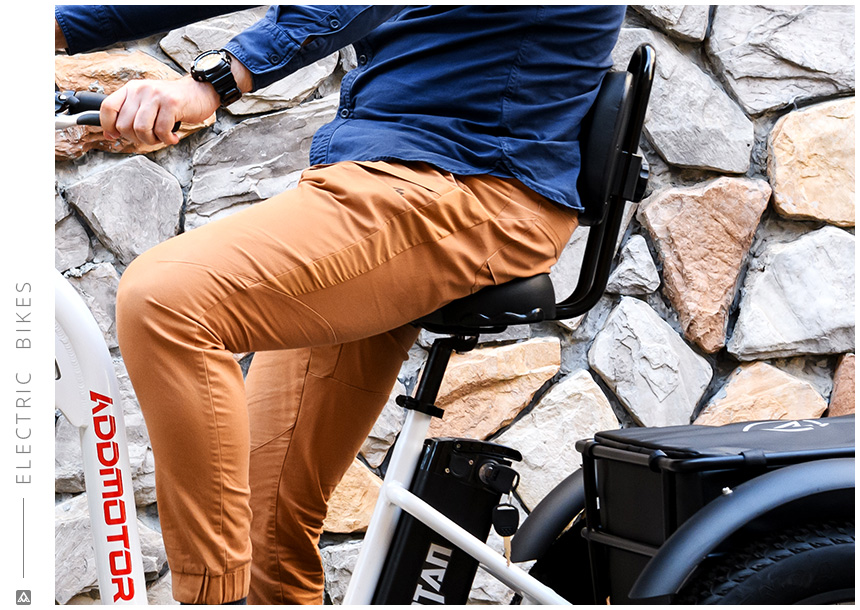 Ready to enjoy the ride
Taking advantage of a finely tuned frame design, you can rest your legs on the wood board. Adjustable handlebar and thick padded saddle for optimal comfort.
Upright Posture
|
Cruiser Handlebar
|
Saddle With Backrest
Explore more features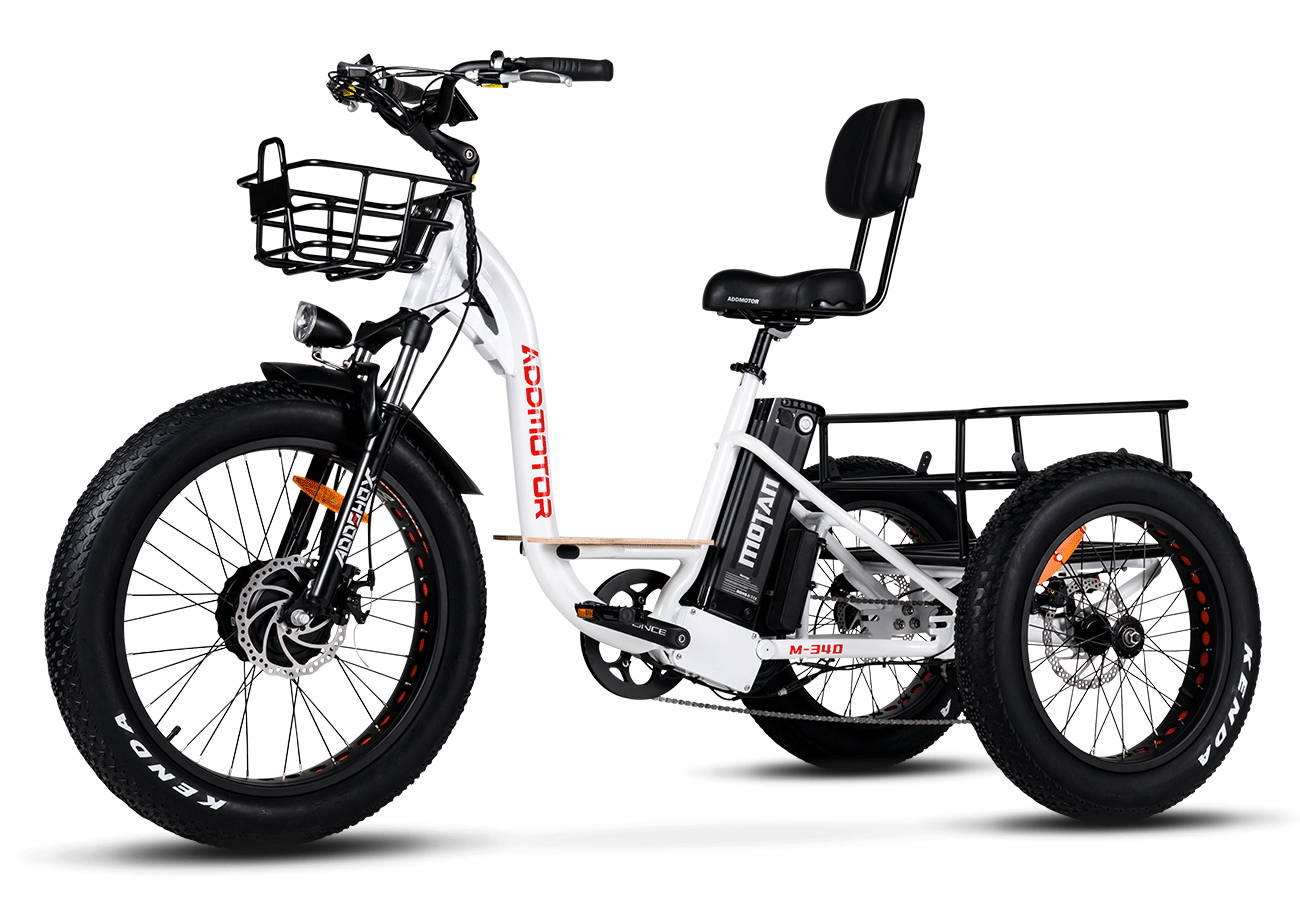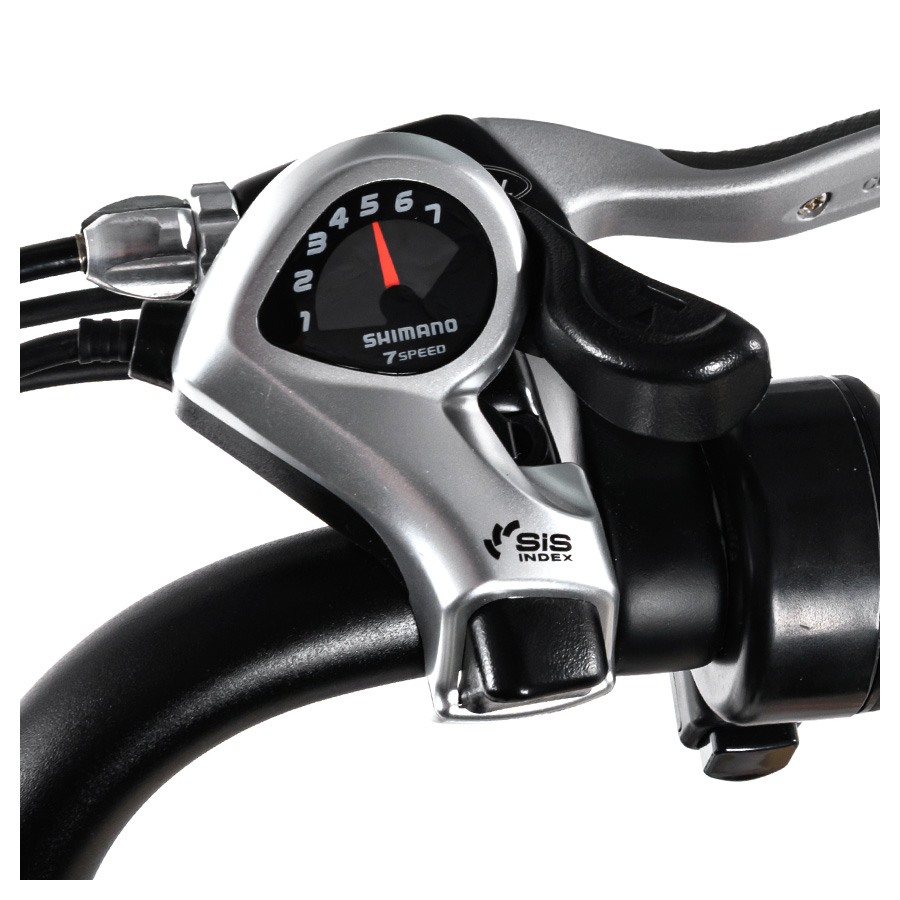 7-speed Gears
With the Shimano gear systems, you'll get more control over your ride while increasing efficiency. Smooth shifting makes your pedaling easier.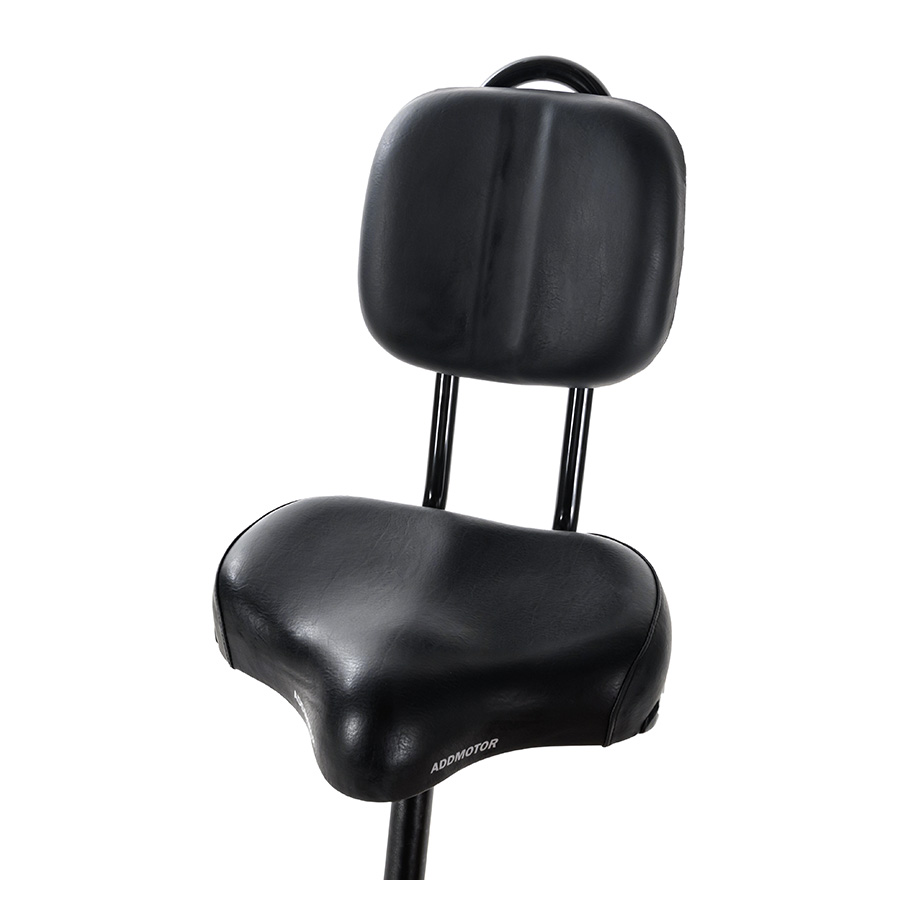 Extra Wide Saddle With Backrest
Thick padded saddle and backrest give you the best support. No stress or strain in your riding. Get comfort on the saddle.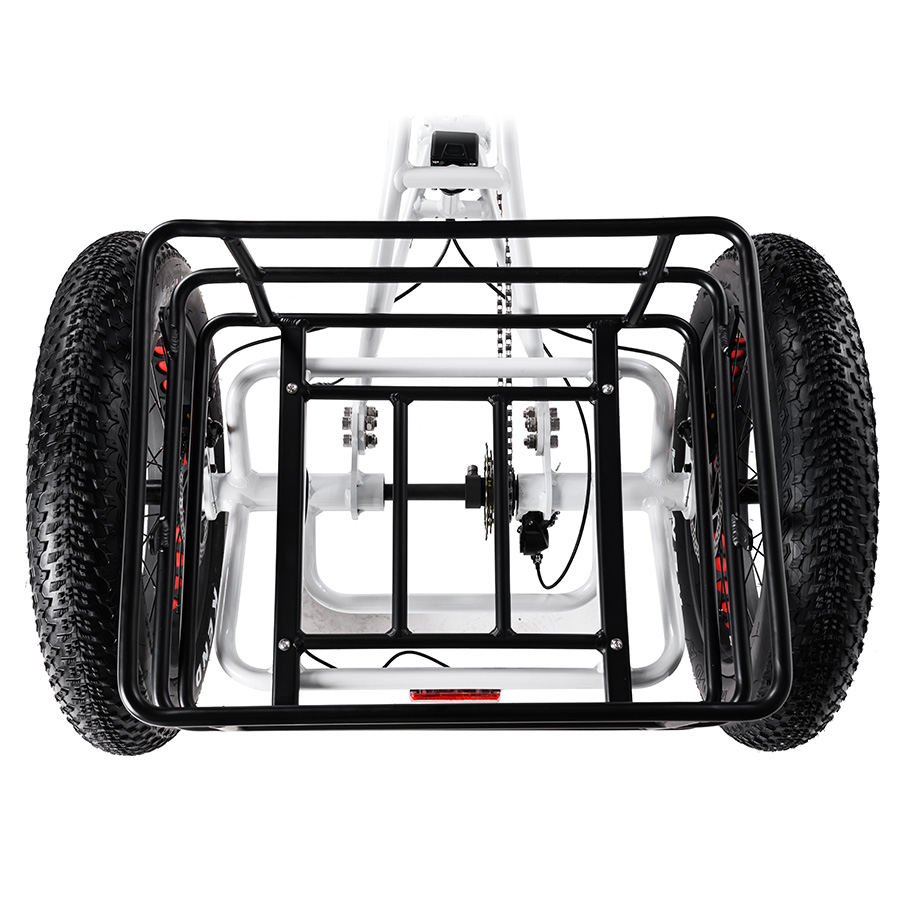 Large Storage Basket
Made of sturdy aluminum, the rear basket can carry up to 100 lbs. 48L super large capacity, bringing everything you need for riding!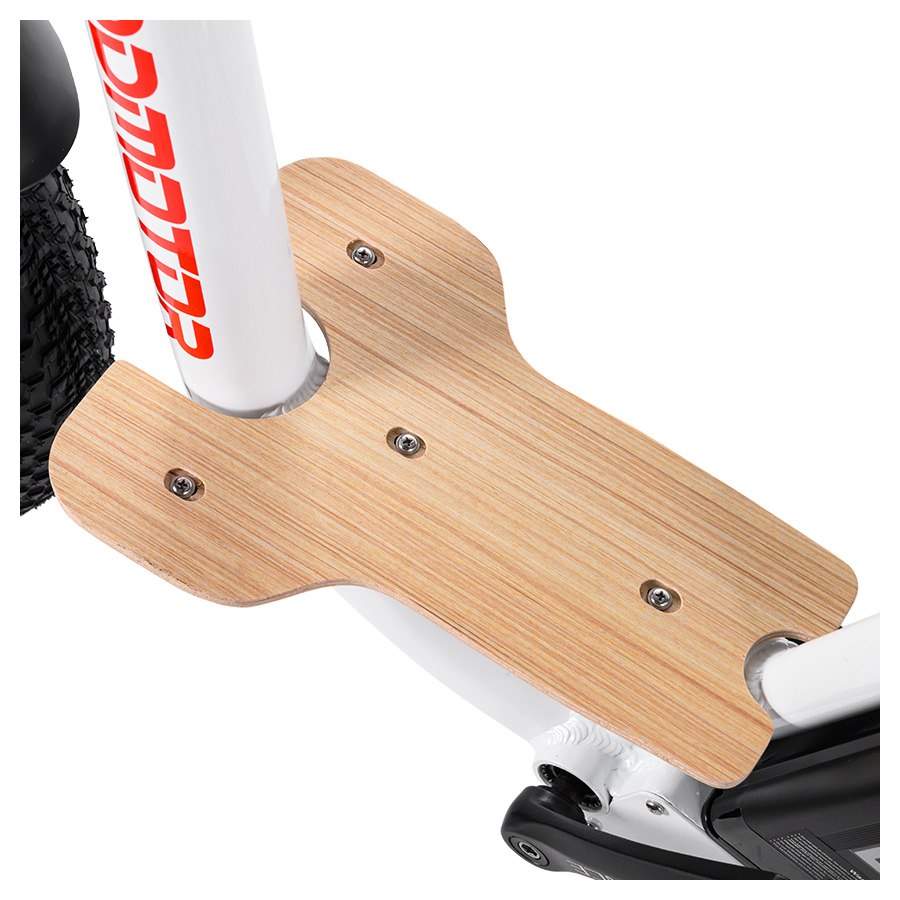 Easy Access Step-thru Frame
Step-thru frame design making it easy to get on and off the bike. Thanks to the wood board, you can rest your legs or carry the stuff on it.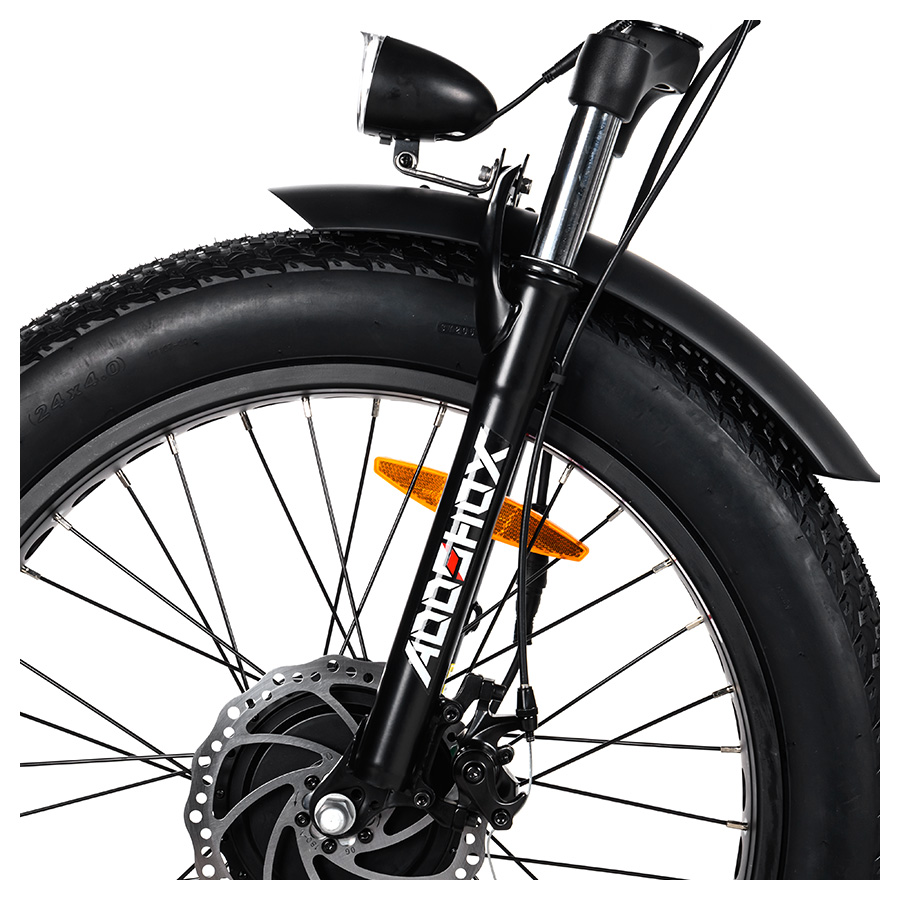 Front Suspension Fork
80mm travel suspension fork soaks up the bumps on rough terrain, greatly improves the riding experience and brings you smooth rides.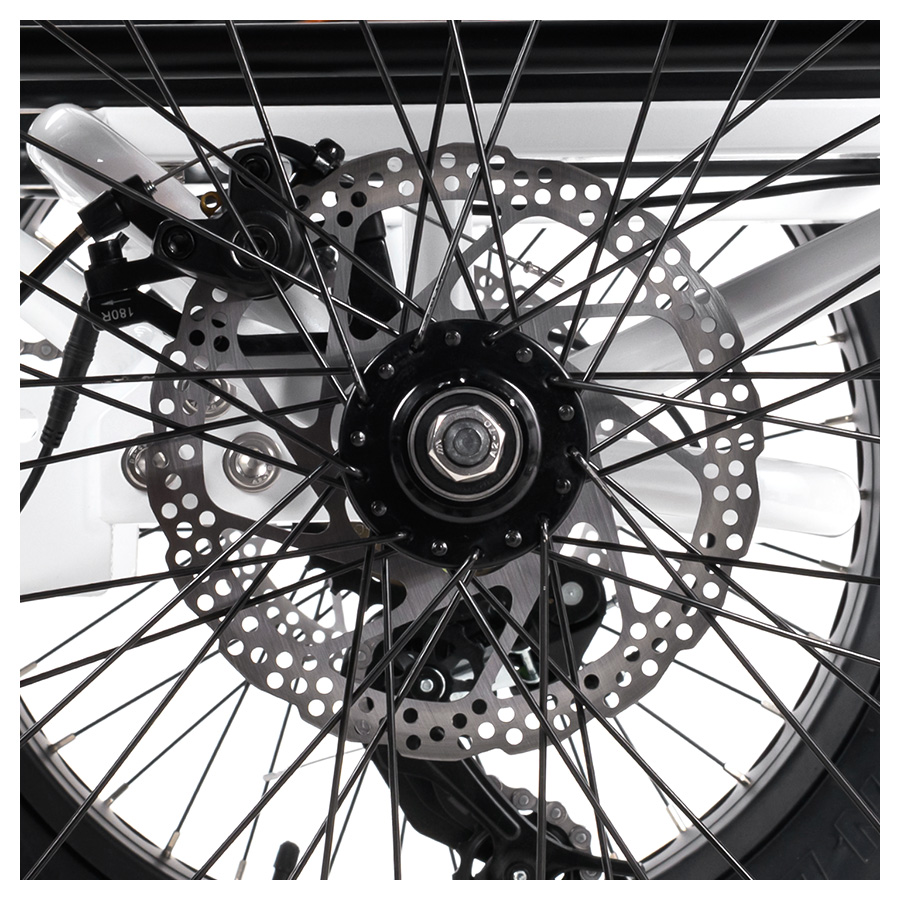 Dual Rear Brake Rotors
Dual brakes system ensures safe braking at high speeds, meanwhile triggering the automatic motor cutoff and rear brake light.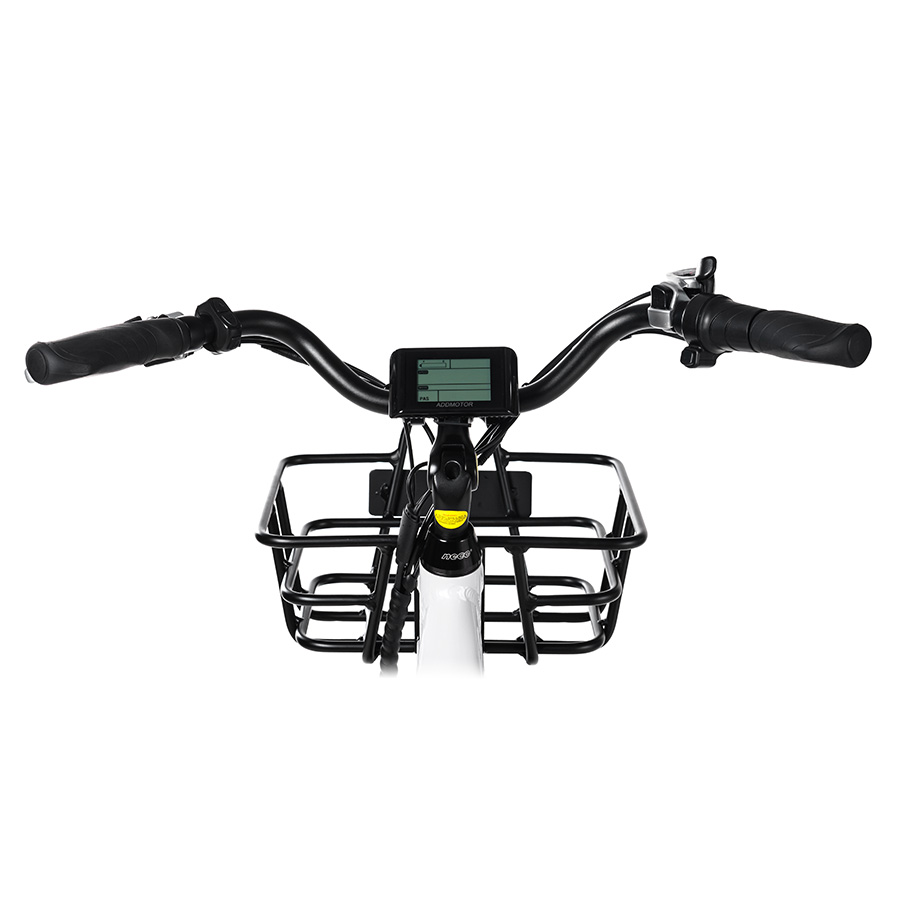 Cruiser Handlebar
Height and angle adjustable handlebar stem allows you to find a perfect reach and a relaxed shoulder-level arm height.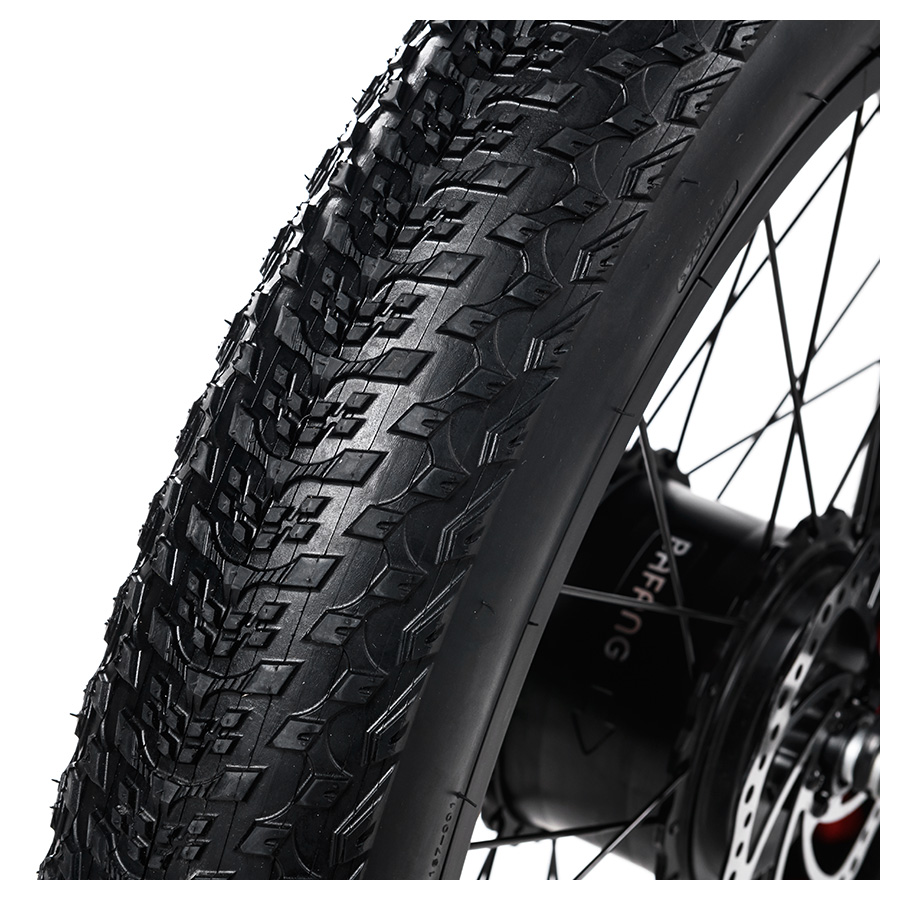 4.0 Inch Fat Tire
Fat bikes are surprisingly easy to ride because the large tires provide more balance and control. The elasticity of the rubber helps absorb shocks and increase comfort.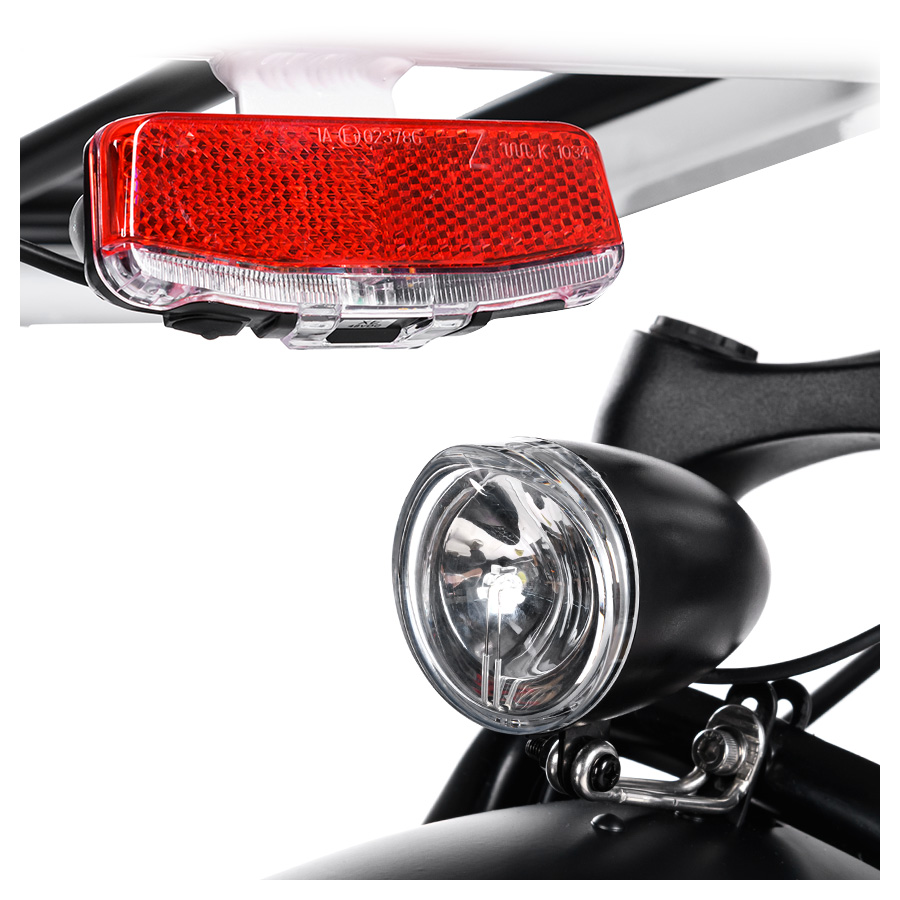 Integrated Headlight and Taillight
Efficient electric lights ensure your riding safety at night, never having to worry about charging or replacing batteries at the end of a long day. The taillight also features a brake light function.
WHAT PEOPLE ARE SAYING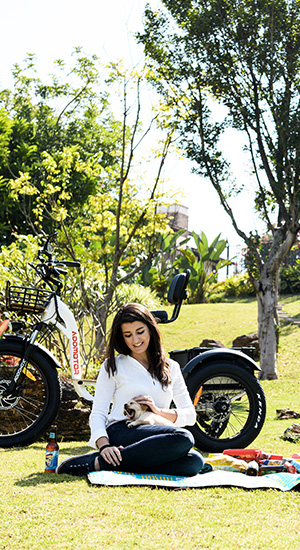 my only
transportation
I live in a small mountain town and suffer from arthritis so pedaling is minimal. The trike goes up hills with ease and surprised me as to how much power it has. We had 6-inch snow and the trike handled it perfectly.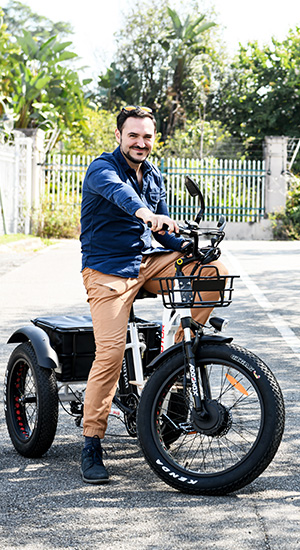 It is so fun
I have nothing but good things to say about this company and my new bike. The fat tires and suspension feel really good. I also get stopped and complimented on how cool my bike looks. Everything has worked out great so far and I am really happy.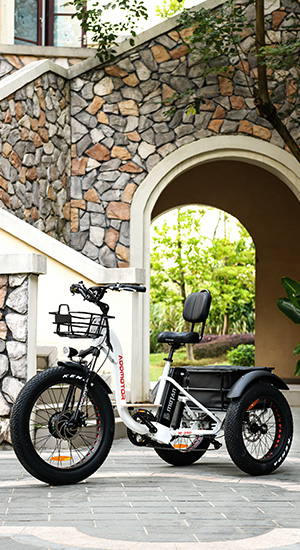 Absolutely love
this adult tricycle
The bike seat feels better than most bike seats. I've sat on and it rides great stable and smooth. I've lost 7lbs so far riding it. I thought all hope was lost for a bigger person riding a bike until I came across this adult tricycle.
SIZING AND GEOMETRY
The M-340 trike fit riders between 5'2" - 6'4" and weigh under 350 lbs. Adjustable handlebar and saddle allow you to find your most comfortable riding position.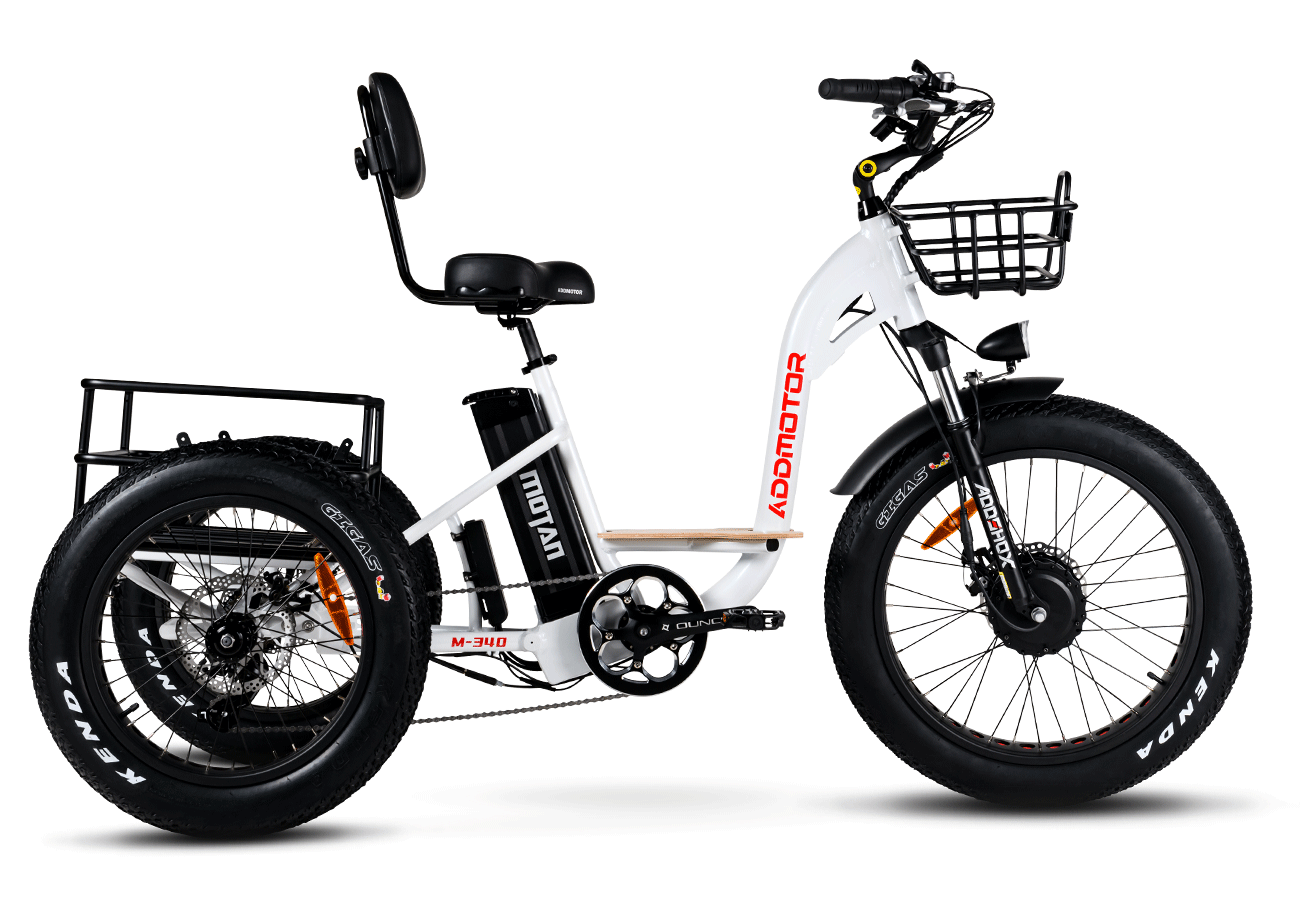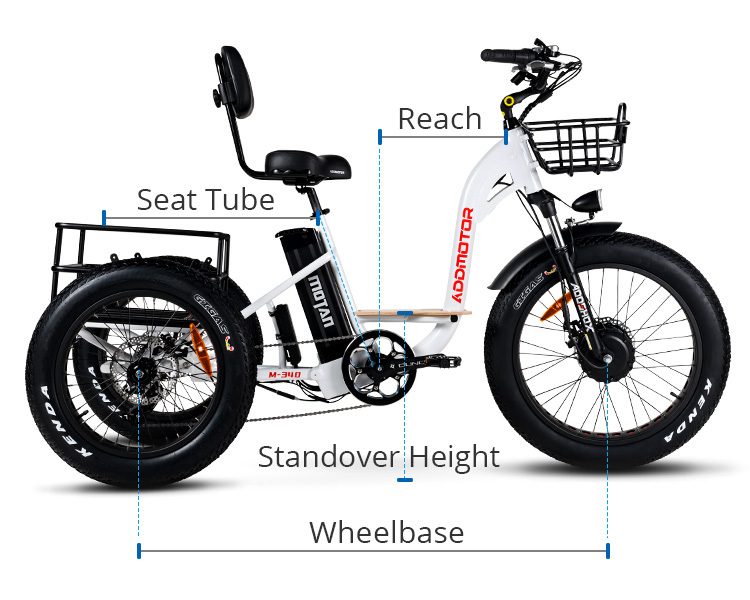 Handlebar Height
Max48" Min43"
Seat Height Max39" Min32.5"
Wheelbase 49"
Total Length 77"
Total Width 33.5"
Reach 13"
Seat Tube 19"
Handlebar Length 25"
Standover Height 17.5"
Seat Post Length 27cm
Seat Post Diameter 27.2mm
Front Basket 9L
Minimum Seat Height 32.5"
Maximum Seat Height 39"
Minimum Handlebar Height 43"
Maximum Handlebar Height 48"
Rear Basket 20.5"L x 16"W x 9.5"H;48L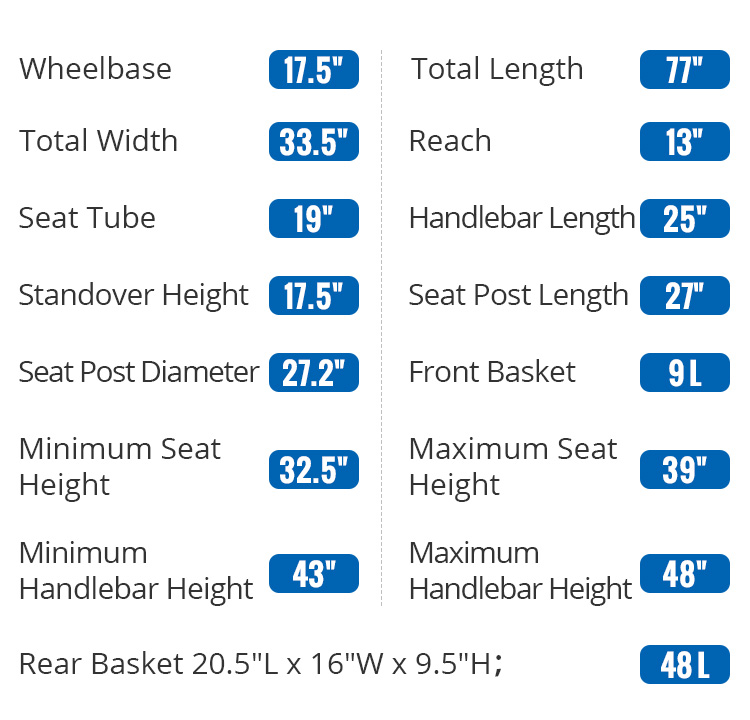 The ultimate companion on your journeys
Don't Miss The Super Early Bird Offer. Hurry Up!
FAQ
What is the EARLY BIRD PRICE?
The EARLY BIRD PRICE is $2379, 30% off of the original price $3399.
How do I get the EARLY BIRD PRICE?
It's first come first served. Act fast!
When will the new trike be available to order and ship?
The M-340 trike will be launched Jan 5th at 8 am PST. The first 60 orders will be shipped immediately.
Can I add rear fenders and rear basket liner to the trike?
Absolutely, They are even included in the first 80 orders for free!
Sure, Learn more about
Affirm financing
and get your new trike for as little as $148.63 a month.
This 2021 new trike is only available on Addmotor's official website. Please stay tuned to
www.addmotor.com
Due to the limited quantity, in order to be fair and just, this tricycle can only be purchased when it releases. Preorder is not accepted.